Georges French Restaurant Distillery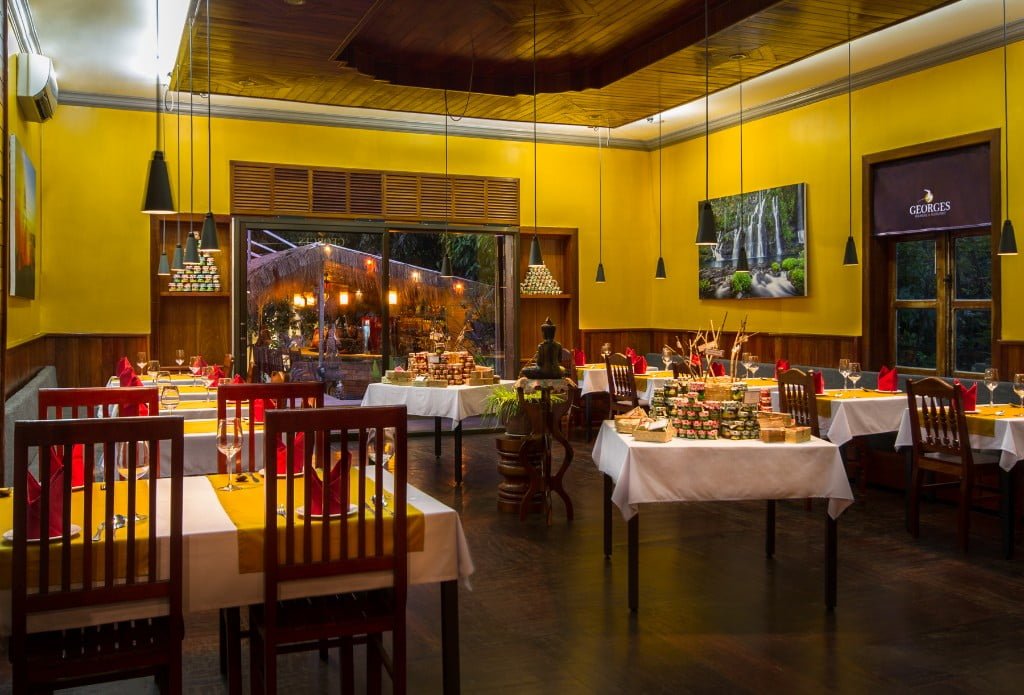 Georges French Restaurant in Siem Reap offers an authentic fusion dining experience. The chefs and staff are well trained to deliver quality cuisine. It is a highly recommended restaurant due to its unique take on French Asian fusion. Plus it doubles as a rumdistillery,, crafting creative spirits and fun and original jams, chillies and chutneys.

Georges Rhumerie is a must try restaurant and Distillery! The flavors of his home on Reunion Island combine with French and Asian influences to create new twists on classic dishes, while remaining an authentic expression of Creole fusion cuisine. This restaurant in Siem Reap features a stylish, air-conditioned, indoor restaurant and a beautiful terrace garden.

The family believes a passion for food and excellence in customer service are keys to the happiness of their guests. To this end, Georges' kitchen is hard at work every day crafting infused rum, jams, chillies, chutneys, sausages, foie gras and much more.

Their product is made in Siem Reap; distilled and bottled on site. A strong Cambodian influence that you will find in the ingredients used by Georges French Restaurant. From Madagascar, to Reunion Island and Mauritius or Martinique, their Agricole craft rum keeps its typical fusion touch.

Did you know that Georges French Restaurant also has fine gifts in the form of their delicious rums and preserves, which come in adorable, yet ethical, packaging? We're sure you will find the perfect gift to take home to your friends and family.

New at Georges! Are you ready for an exciting and unique experience in Siem Reap (and Cambodia!)? Look no further! A tasty yet dizzily activity that will satisfy you all, whether you spend a few days in the city, or you live here.

We thought that it was about time that people could finally make their very own flavored rum! So there we go! Book a tour at Georges to discover the sugarcane "histoire" and learn more about the rum making process.

Try our 12 flavored rums and get to make your unique spiced beverage thanks to a selection of not less than 30 spices and dried fruits! It is time to awaken the alchemist in you!

Plus, we are well aware that such an activity can get tough on an empty stomach, that is why we will offer you as well some snacks, served with our homemade jams, chutneys, and chilis.

So join the fun and get creative! Click here for more information and make your reservation today.

This French restaurant is also featured as one of the best international restaurants in Siem Reap.

Design your own rum gift while learning about the history and secret of sugarcane and rum.

The package includes:
- A tour of the workshop and gallery
- A rum tasting session
- The creation of your very own spiced rum

Price: USD 15 + VAT.
Promotion: USD 3 off when you dine at the restaurant.