If you are looking for a meaningful travel experience, you should definitely consider teaching English in Cambodia. Conquer the hearts of Cambodian people by helping them learn the English language and giving them an opportunity of showing their hospitality.
Here's everything you need to know about teaching English in Cambodia: the land of smiley and curious faces!
The Cambodian Education System
First things first!
The Cambodian education system comprises of 6 years primary education until grade 6, followed by six years of secondary education. After which, few children get the opportunity to pursue higher education in a college or university, as poverty gets in the way for some!
Most foreign teaching jobs are to be found in cities like Phnom Penh and Siem Reap, which are home to a plethora of private and international schools and universities, offering a higher standard of education.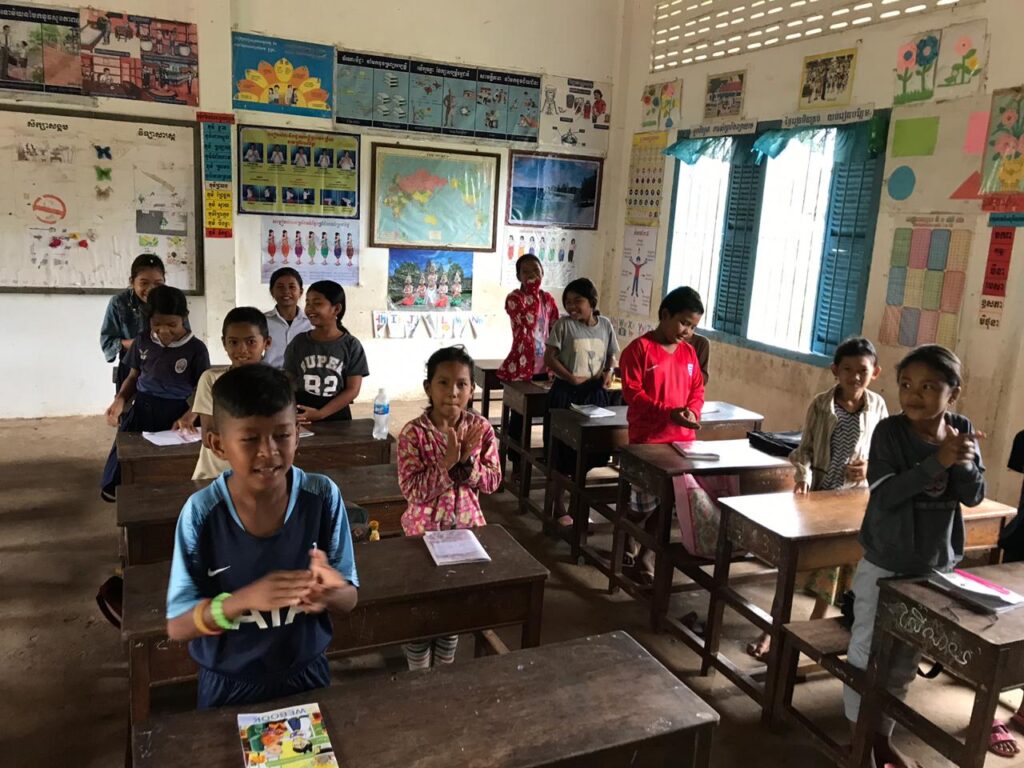 Why Teach English in Cambodia?
1. Cambodians are super friendly and eager to learn English
With tourism booming in Cambodia and language acting as one of the most important tools for information and communication in the age of globalization, the demand for teaching English is increasingly evident.
2. Rich culture and history
Cambodia is a country full of culture, arts and music. Even though, a lot of this art was destroyed during the brutal Khmer Rouge regime, the country's art scene has seen a true revival in recent years. Be it Apsara dancing, traditional Khmer boxing, beautiful temples or museums preserving Cambodia's rich heritage, every aspect of it is worth discovering.
3. Great value for money, from food to transport, you can't beat Cambodia
As an English teacher your income falls anywhere in between 1000 to 2500USD which makes living in Cambodia a dream come true. Accommodation costs around 200 – 400USD maximum in a good location whereas food and drinks are not more than a dollar or 2.
4. A foodie haven! From local Khmer food to Western delights, you'll find endless options
Khmer cuisine is quite underrated in comparison to Thai or Vietnamese. With a delicious variety of sauces, herbs, fresh vegetables, tropical fruits, fish and much more there's something for every palate in Cambodia. You'll end up spending around $1-$5 in a local restaurant for a dish and some Angkor beer! sweet deal, isn't it?
5. Beautiful getaways
Needless to say, Cambodia is a beautiful country. Be it the magnificent temples of Angkor Wat or the pristine island of Koh Rong, you'll never find yourself running out of hotspots to explore. From historical venues to floating villages, from beautiful lakes to dreamy islands, from partying on pub street to enjoying a traditional Khmer boxing match, there's never a dull moment in Cambodia.
6. Cambodia is centrally located to visit other countries in SE Asia
Cambodia definitely serves as a convenient location to travel around in South East Asia. While in Cambodia, you can take a weekend getaway to its neighbors Thailand, Vietnam, Laos or even further away! Flights are relatively cheap with several low-cost carriers like AirAsia flying from Phnom Penh and Siem Reap airport.
7. Cambodia is the only country in Southeast Asia where you can LEGALLY teach without a degree
It is fairly easy to become a teacher in Cambodia because of its minimal barriers. Unlike its neighboring countries, Thailand and Vietnam, a university degree is NOT required to teach English in Cambodia.
8. Relatively easy visa and work permit process compared to other countries
Obtaining a business visa is no biggie if you already have a contract with your employer. Business visas can be conveniently extended up to 12 months. However, you could also easily arrive on a tourist visa which only allows you a single entry for a month, familiarize yourself with the country and after you secure a job and decide to continue working in Cambodia, you can obtain a business visa.
Who are schools looking for?
The majority of schools in Cambodia prefer to hire teachers with a citizenship from USA, Canada, UK, Ireland, Australia, New Zealand, South Africa, but qualified non-native speakers can also get teaching jobs.
While being a proficient English speaker is a qualification enough to teach English in Cambodia, to be a good English teacher and increasing your odds in getting a better paying job, a TEFL / TESOL certification is a must!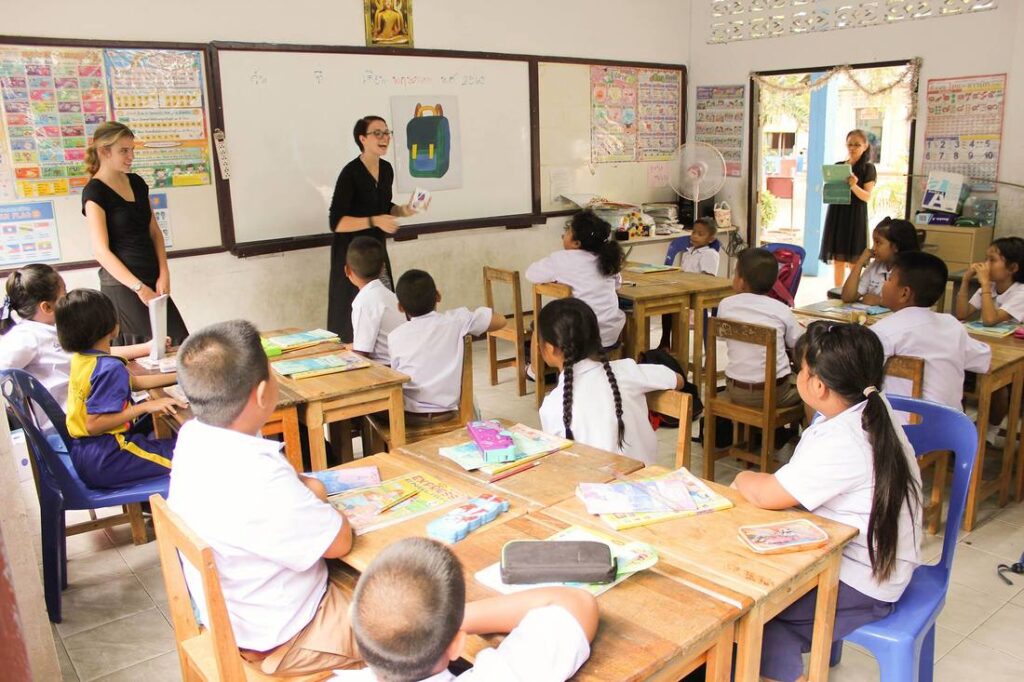 What is a TEFL / TESOL accreditation and why is it important?
TEFL stands for Teaching English as a Foreign Language. Other common acronyms are TESOL (Teaching English to Speakers of Other Languages), ELT (English Language Teaching) and ESL (English as a Second Language).
To Teach English abroad in a foreign, non-native English speaking country, a TEFL certification is typically required as schools and universities want to hire teachers who have received proper training.
The best thing about having a TEFL certification is its worldwide recognition and it never expires! Once you have one, you can basically start teaching English as a foreign language anywhere around the globe!
Why we recommend the Destination TEFL Qualification Course
Not only is Destination TEFL an accredited TEFL course provider, they also have 120 verified reviews and an average rating of 99% on GoOverseas.com, the leading review site for volunteer, study and teaching programs in the world.
A typical Destination TEFL course comprises of 140 hours intensive classroom training, which exceeds all international criteria. Classes are led by highly skilled trainers who are passionate about teaching and put an emphasis on practical teaching experience.
Not convinced yet? Then check out these additional reasons to choose Destination TEFL. 😉
1. The only TEFL course provider in Siem Reap
Let's state the obvious first – Destination TEFL is the ONLY TEFL / TESOL course provider in Siem Reap – without doubt the most popular city in Cambodia and maybe even Southeast Asia. We're proud to say that Siem Reap always holds a top spot in TripAdvisor's yearly Traveller's Choice Awards.
2. Collaboration with Asian College of Teachers
Destination TEFL offers TEFL / TESOL courses in academic collaboration with Asian College of Teachers (ACT). ACT is Asia's largest teacher training body with 30,000 alumni and 600 school associations across Asia AND is also accredited to TESOL Canada and TQUK.
3. Accommodation and breakfast included
You can choose from any of the three destination TEFL course options, they all include accommodation and breakfast!
4. Guaranteed placement
Destination TEFL offers the option to choose a course with a guaranteed job placement in Cambodia. Or even better, study in Cambodia and choose for a guaranteed placement in either Thailand or Vietnam!
5. Blended courses available
Are you on a budget or do you only have 2 weeks free to do the course? Then Destination TEFL's blended course may be perfect for you. First learn the theory in an online course, followed by 2 weeks of in-class training in Siem Reap.
Ready for the adventure of a lifetime?
Travel. Teach. Repeat! Explore Southeast Asia from its cultural heart in Siem Reap, Cambodia – home to the world-famous Angkor temples. Fill out the form below to start an adventure that will change your life, as well as those of others! We're here to answer all your questions!
Learn more about teaching English in Cambodia
Request a free brochure or speak with an expert adviser about all aspects of TEFL certification and teaching English in Cambodia (or neighboring countries Thailand & Vietnam), including the hiring process, salary, visa, TEFL class options, job placement assistance & more.