This year marks the 5th edition of Angkor Sankranta, a giant festival celebrating Khmer New Year and hosted for 3 days at the Angkor Archaeological Park. It's a buzz of activity with games, food and exhibitions all highlighting Khmer culture.
The dates for Angkor Sankranta 2017 are 13 to 16 April. There is a blessing ceremony on the 13th at 8am to kick off the celebration. Full program is below.
Day one starts in the afternoon, and the second and third days begin at 8am for those who are keen to enjoy every part of the Sankranta. There are traditional and popular games, a parade, a concert and exhibitions of Cambodian industry and folk stories. There is a product fair, bokator martial arts demonstrations and a floating lantern ceremony. Each year, there is a Guinness world record attempt; two years ago it was for the biggest Cambodian palm leaf hat and last year the biggest nom on som, a Cambodian cake only for special celebrations like Khmer New Year or Pchum Ben.
This year's attempt will be a giant chicken's nest and a giant chapei dong veng, a traditional two-stringed, long-necked guitar. There is word that there may be other surprises in store too!
Entrance to the event is free and you don't need an Angkor Pass to attend the festival. However, if you do want to visit the temples while you're there, you will need that pass!
People from all over Cambodia converge on Siem Reap and organizers are expecting an increase of numbers from last years 1.3 million attendants.
It's recommended you get there early to experience all of the fun and games Angkor Sankranta has to offer. Be prepared for traffic delays, the roads are jammed for pretty much a whole week – the event and a few days either side as people enter and exit Siem Reap. If you can go by bicycle from Siem Reap town, this is actually the best option. Motorbike would be the second best. Whatever transport you go by, it's an excellent event that Cambodians look forward to each year and joining in is a must!
Angkor Sankranta Map & Timetable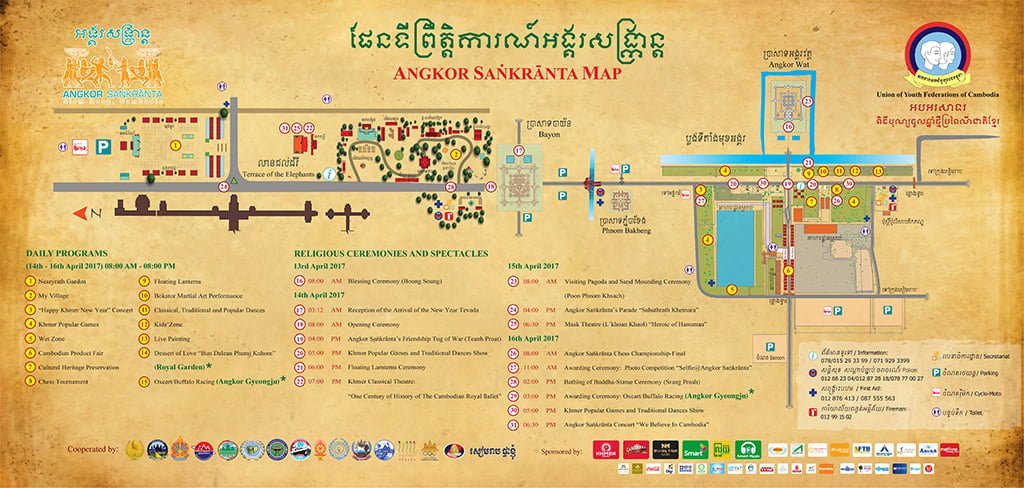 This year's program is as follows and there is a map of the layout to help you navigate the grounds. All events are held at the Angkor Archaeological Park, unless otherwise stated.
Daily Programs
14th – 16th April 2017, 8am – 8pm:
Nearyrath Garden
My Village
"Happy Khmer New Year" Concert
Khmer Popular Games
Wet Zone
Cambodian Product Fair
Cultural Heritage Preservation
Chess Tournament
Floating Lanterns
Bokator Martial Art Performance
Classical, Traditional & Popular Games
Kids Zone
Live Painting
Desert of Love "Bun Dalean Phumi Knhom" at Siem Reap's Royal Gardens
Oxcart/Buffalo Racing at Road 60 Market / Kyung Yu Fun Fair
Religious Ceremonies and Spectacles
13th of April:
8:00 am – Blessing Ceremony (Boung Soung)
14th of April:
3:12 am – Reception of the Arrival of the New Year Tevada
8:00 am – Opening Ceremony
4:00 pm – Angkor Sankranta Friendship Tug of War (Teanh Proat)
5:00 pm – Khmer Popular Games and Traditional Dance Show
6:00 pm – Floating Lanterns Ceremony
7:00 pm – Khmer Classical Theater: "One Century of History of the Cambodian Royal Ballet"
15th of April:
8:00 am – Visiting Pagoda and Sand Mounding Ceremony (Poon Phnom Khsach)
4:00 pm – Angkor Sankranta Parade "Sabathrath Khemara"
30 pm – Mask Theater (L'khoan Khaol) "Heroic of Hanuman"
16th of April:
8:00 am – Angkor Sankranta Chess Championship Final
11:00 am – Awarding Ceremony: Photo Competition "Selfie@ Angkor Sankranta"
2:00 pm – Bathing of Buddha Statue Ceremony (Srang Preah)
3:00 pm – Awarding Ceremony: Oxcart/Buffalo Racing at Road 60 Market – Kyung Yu Fun Fair
5:00 pm – Khmer Popular Games and Traditional Dance Show
6:30 pm – Angkor Sankranta Concert "We Believe in Cambodia"
Resources