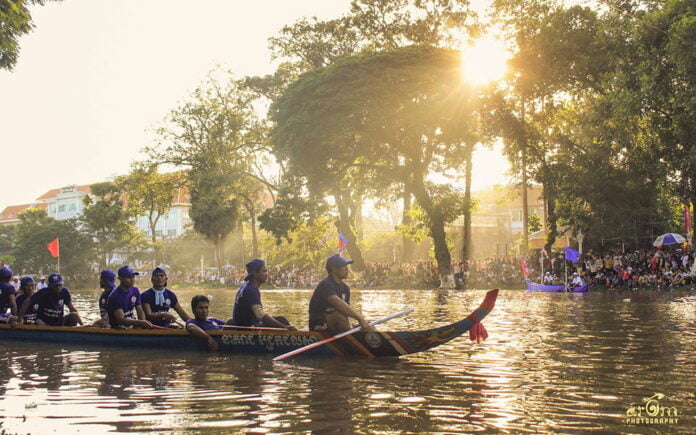 Coming up on 9 – 12 November 2019, Cambodia celebrates its annual Water Festival, or Bon Om Touk. The festival celebrates the natural phenomenon of the reversing of the flow of water in both the Mekong River and the Tonle Sap (Great Lake) after the monsoon season has passed, and water levels have subsided. The retreating waters allow for fishing to begin again, and the festival is a time for optimism that a prosperous season lies ahead, along with the auspicious full moon conveying its good fortune.
This key occasion in the Cambodian calendar also doubles as a reminder of Naval victories in King Jayavarman II's rule in the 9th Century. Annual regattas were held as a display of seafaring prowess, with boat races on the rivers and lakes. These competitive races, combined with traditional ceremonies of gratitude for fertile lands and waters, paved the way for the Water Festival of modern times – a time when crowds throng to watch boat racing and later gather to enjoy street food from pop up stalls along the riverside. The festive atmosphere continues through the night with Pub Street revelry and live bands on specially-constructed stages.
Water Festival Celebrations in Siem Reap
If you're planning to be in Siem Reap during this culturally-significant event, join the crowds along the riversides, up as far as the Wat Bo bridge, to see the spectacle of colourful boat teams race to cheering crowds.
The dragon boat races begin with an opening ceremony at 3pm on Sunday 10 November, and continue until early evening. Races continue the following 2 days from 3pm onwards, with the semi finals and finals scheduled for Tuesday 12 November. The moon festival and floating candle ceremony are scheduled for Monday 11 November at 11pm, when candles in little boats made of lotus flowers (Loy Pratip) are set afloat down the river, making it a mesmerising sight which everyone can join.
Locals are delighted to share this special holiday with tourists and expats. The optimistic mood is infectious, and the Cambodians, while welcoming and friendly at any time, are especially keen for everyone to participate in the lively celebrations and gain insight into their culture and deeply-held traditions. Expect to see vehicles and passers-by doused liberally with water – all part of the fun and – at the very least – a great way to keep cool on a hot November day!
Event Schedule
Location: along the Siem Reap River, from the former Department of Tourism Bridge near Amansara Angkor Resort until Wat Damnak Bridge near Old Market.
Saturday, November 09th, 2019
Eating Om Bok Ceremony (Om Bok is a popular Cambodian snack made out of rice flakes, sometimes mixed coconut, sugar, palm juice or banana.
Sunday, November 10th, 2019
3pm: Boat Racing Opening Ceremony
Monday, November 11th, 2019
3pm: Boat Racing
11pm: Moon Festival and Floating Candle Ceremony
Tuesday, November 12th, 2019
3pm: Boat Racing – Semi finals & final
Water Festival Offers
Siem Reap is bustling with activities during the Water Festival. Don't miss the following special events and offers! If you're looking for somewhere to stay during the festivities, several packages are available. Book direct to secure your special Water Festival deal!
Celebrate the water festival at Siem Reap's one and only beach. Expect a live BBQ station, water games in and around the huge pool and seriously good beats!
Rock the Water Festival at Hard Rock Café Angkor! Celebrate with authentic American food and drinks and live entertainment with Garuda Band and DJ Nitch aka Team. Enjoy special discounts on Corona beer and a real foam party!
Airy and open, the comfy terrace of Hunkaar Table & Lounge is surrounded by lush greenery. This is the perfect place for a peaceful start of your day with a mouth-watering free flow breakfast. Expect a selection of great coffee, as well as the ever-popular eggs benedict, and even a bar featuring delicious fruit and bread! Some travellers are particularly fond of the a la carte options, which are available in combination with the buffet.
Bring your family and friends to Khéma Angkor's rooftop to celebrate the Water Festival in the best way possible. Take advantage of the rooftop's riverside vantage point overlooking the Siem Reap River, while indulging in a free-flow BBQ, along with free-flow beer.
Celebrate the end of rainy season at Le Meridien Angkor with a special Water Festival Package at $120 net, valid for stays between 9 and 13 November. This offer is only available for Cambodian nationals or resident expats living in Cambodia. The package includes daily signature buffet breakfast, welcome drink, late checkout until 3pm, free wifi and use of the swimming pool, gym, steam and sauna.
Enjoy an indulgent stay between 9 and 15 November at The Butterfly Pea. This package, at $45, also includes a delicious breakfast. With a pool and cocktail bar on hand, this is a great way to experience this special time of year. Reserve your stay by calling 063 968 485 or emailing the hotel on stay@thebutterflypea.com.
With its prime location along the Siem Reap River, The Butterfly Pea also makes the perfect spot to soak in the atmosphere of the annual Water Festival. A great selection of food and drinks will be available at the poolside bar and restaurant, together with live music by Kiss Bang Bong from 4-6pm on November 10 and 11. Happy hour is on from 3-7pm!
With a special rate of $129 net on deluxe rooms, Treeline Urban Resort offers a special package for stays between 2 – 16 November. The deal includes daily breakfast for two, cold towel and welcome drink of your choice upon arrival, complimentary minibar, 10% off on food & beverages and 30% off at SURI Spa!