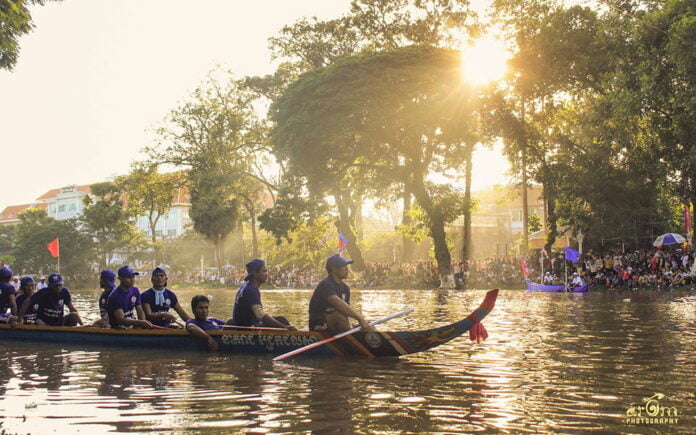 Coming up on 21 – 22 November 2018, Cambodia celebrates its annual Water Festival, or Bon Om Touk. The festival celebrates the natural phenomenon of the reversing of the flow of water in both the Mekong River and the Tonle Sap (Great Lake) after the monsoon season has passed, and water levels have subsided. The retreating waters allow for fishing to begin again, and the festival is a time for optimism that a prosperous season lies ahead, along with the auspicious full moon conveying its good fortune.
This key occasion in the Cambodian calendar also doubles as a reminder of Naval victories in King Jayavarman II's rule in the 9th Century. Annual regattas were held as a display of seafaring prowess, with boat races on the rivers and lakes. These competitive races, combined with traditional ceremonies of gratitude for fertile lands and waters, paved the way for the Water Festival of modern times – a time when crowds throng to watch boat racing and later gather to enjoy street food from pop up stalls along the riverside. The festive atmosphere continues through the night with Pub Street revelry and live bands on specially-constructed stages.
If you're planning to be in Siem Reap during this culturally-significant event, join the crowds along the riversides, up as far as the Wat Bo bridge, to see the spectacle of colourful boat teams race to cheering crowds.
The dragon boat races begin with an opening ceremony at 3pm on Wednesday 21 November, and continue until early evening. Races continue the following day, Thursday 22 November, with the semi finals beginning at 8am. The final race is scheduled for 2pm, and the event culminates with a floating candle ceremony at 8pm. Candles in little boats made of lotus flowers (Loy Pratip) are set afloat down the river, making it a mesmerising sight and everyone can join in.
Locals are delighted to share this special holiday with tourists and expats. The optimistic mood is infectious, and the Cambodians, while welcoming and friendly at any time, are especially keen for everyone to participate in the lively celebrations and gain insight into their culture and deeply-held traditions. Expect to see vehicles and passers-by doused liberally with water – all part of the fun and – at the very least – a great way to keep cool on a hot November day!
Event Schedule
Location: along the Siem Reap River, from the former Department of Tourism Bridge until Wat Bo Bridge.
Wednesday, November 21st , 2018
3pm: Boat Racing Opening Ceremony
Thursday, November 22nd , 2018
8am: Boat Racing – Semi-Finals
2pm: Boat Racing – Final
8pm: Moon Festival and floating candles in Siem Reap River
Water Festival Offers
If you're looking for somewhere to stay in Siem Reap during the festivities, several packages are available. Book direct to secure your special Water Festival deal!
Ibis Styles Siem Reap
From 20 – 25 November, centrally-located Ibis Styles offers a promotional rate to Cambodian nationals and resident expats of $50/net per night for a Superior Room, including breakfast for two.
To reserve a room at this special price, email h9914-re@accor.com or call 063 968 456.
In addition, a special BBQ take away menu is available, from 21- 23 November, including pork spare ribs, chicken wings and beef ball sticks at $2 each, as well as artisan ice cream at $1. The ongoing promotions, including the $7 combo meal deal and daily happy hour, will be available throughout the festival, too.
Amansara Angkor
Enjoy an indulgent afternoon between 1 – 30 November at Amansara, starting with a soothing 60 minute Khmer massage at Aman Spa followed by a relaxed afternoon tea in the circular Dining Room. This package, at $112/net per person, is the ultimate way to unwind. Reservations can be made by calling 063 760 333.
Rambutan Hotel & Resort
With a discount of 25% on standard rates, Rambutan offers a special package for stays between 20 – 23 November. The deal includes free airport pick up, a welcome drink, a complimentary 30 minute foot massage by the pool and a 15% discount on food and drinks during your stay. To reserve your reduced-rate room, book online before 23 November.
Raffles Grand Hotel d'Angkor
The culinary team at Raffles Grand Hotel d'Angkor will serve up a menu of traditional delights, from snacks to sizeable plates, in specially-created Khmer food stalls at the entrance of the hotel. Enjoy these exotic tastes at the Water Festival Market from 21 – 23 November. For more information, call 063 963 888 or email dining.grandhotel@raffles.com.
Sofitel Angkor Phokeethra Golf & Spa Resort
Valid for stays between 17 – 26 November, Sofitel Angkor Phokeethra Golf & Spa Resort has a special offer for Cambodian nationals and resident expats living in Cambodia. The promotional rate of $150/net includes one night accommodation and a buffet breakfast for two guests. Receive a welcome drink on arrival, complimentary bike rental and a surprise gift waiting for you in your room. Call 063 964 600 or email h3123@sofitel.com to make a reservation.
Georges Rhumerie Cafe & Shop
During Water Festival, each customer visiting Georges Rhumerie can go back home with a small gift of their favorite jam, chillies, chutney or even one of their 12 different infused rums! To receive your gift, simply give the the secret code 'Siemreap.net' ! For more information or to reserve a table, call 096 861 7448 or email info@georges-rhumerie.com.
Park Hyatt Siem Reap
On November 21st, Celebrate one of the most spectacular holidays in Cambodia with a dinner buffet market style at The Courtyard of Park Hyatt Siem Reap featuring Khmer traditional delicacies. Bon Om Touk is one of the most important celebration in Cambodia, marking the reverse flow of the Tonle Sap River. Park Hyatt's Khmer traditional dance will highlight this unique annual occasion. The price for the dinner buffet is US$ 52.00++ per person (food only). For reservation please call 063 21 1234 or email livingroom.repph@hyatt.com. For more information, check the Facebook event page.