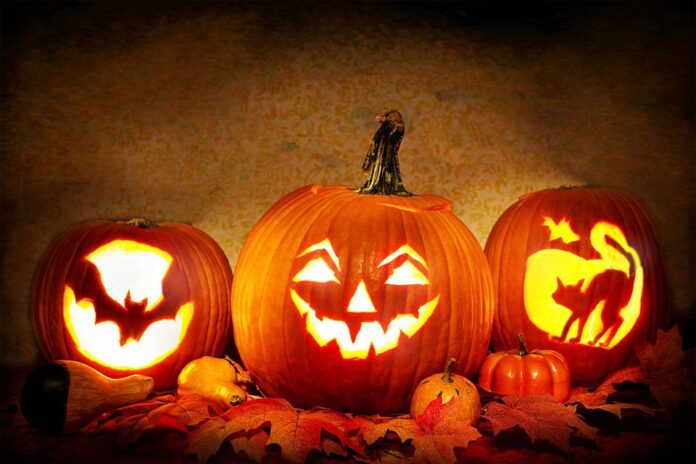 There's something about the spooky costumes, themed decorations and treats that, despite Halloween's far-away origins, ignite excitement and revelry in Siem Reap, year after year. Whether you're a local, an expat or just visiting, the colourful and inclusive festivities won't fail to lure you into the spirit of it! After dark, Pub Street's bars, often given a ghoulish makeover with cobwebs, pumpkins and broomsticks, guarantee you a spine-tingling night out. Join other costumed party-goers ready to take advantage of special drink deals and an atmosphere lively enough to wake the dead.
Here is a selection of the most weird and wonderful events happening in Siem Reap this Halloween. Dig out or borrow a creepy costume and head out to a party near you, for a hair-raising and truly fang-tastic night!
🎃 Until 31st October : 'Trick or Treat' Cookies 🎃
Looking for special treats for a Halloween party? Sink your teeth into peanut butter mummy truffles, chocolate grave, skeleton cookies, spider brioche and scary macaroons. Order your treats or come to enjoy the skeleton cookies at the coffee shop. Contact the coffee shop to place your order, 24 hours in advance.
Where: Bayon Pastry School Coffee Shop, Taphul Road.
When: Until October 31
Cost: Various.
More info: Facebook
👹 October 15 – November 15 : Major Cineplex Halloween Promotion 👹
Catch a scary movie such as Halloween, Goosebumps 2 or Venom this Halloween at Major Cineplex! As well  as prizes and give-aways on October 31, the cinema is offering a special Halloween ticket package until November 15. Two 2D tickets, a popcorn and two Dutch Mill drinks cost $6.
Where: Major Cineplex, Sivatha Boulevard
When: until 15 November
Cost: $6
More info: Facebook
🕷 October 27 : Wicked Temptations 🕷
Be tempted by spine-chilling concoctions and deliciously devilish bites, served amid an atmosphere of mystery and suspense in the historic Elephant Bar at Raffles Grand Hotel D'Angkor.
Where: The Elephant Bar, Raffles Grand Hotel D'Angkor
When: Saturday October 27, 6-9pm
Cost: cocktails $12++, small plates from $5++
More info: For reservations, call +855 63 963 888 or email: dining.grandhotel@raffles.com
🙀 October 27: Animal Party 2 – Halloween Spooktacular 🙀
Dress up as a wild animal! All of the proceeds from raffle sales go towards Fauna in Focus's work with wildlife conservation. There will be special prizes for the best animal costumes, and a raffle with over $3000 worth of amazing prizes. Raffle tickets ($2 each, $10 for 10 tickets or $20 for 25 tickets) are now available at several spots around town including The Little Red Fox Espresso, Bang Bang Bakery-Cafe, Footprint Cafes, Sister Srey Cafe, The Hangout or Fauna in Focus.
Where: The Hangout, Sok San Road
When: Saturday 27 October, 6pm – 11.30pm
Cost: free entry
More info: Facebook
👻 October 28 : Trick or Treat Kids Halloween Party 👻
Hard Rock Café Angkor makes sure the kids aren't left out this Halloween with a party just for them! Enjoy free flow soft drinks, snacks, party games and great prizes! Email Leakhena@hrcangkor.com or call 093 565 654 to reserve your places.
Where: Hard Rock Café Angkor, Kings Road
When: Sunday 28th October, 3-6pm
Cost: Children $10, Adults $12.
More info: Facebook
🦇 October 29 – November 1 : BOO! Halloween at Hard Rock Café Angkor 🦇
Celebrate Halloween with Thriller Night by resident band Rock Storm, playing live from 8pm. Enjoy special drinks, fun games and a prize draw.
Where: Hard Rock Café Angkor, Kings Road
When: Monday October 29 – Thursday November 1, 8pm onwards
Cost: free entry
More info: Facebook
🧟‍♂️ Happy Halloween at Art Box 🧟‍♂️
Siem Reap's one and only trick art Museum, Art Box, welcomes its visitors with free Halloween masks and lights show at the Art Box Coffee Shop!
Where: Art Box Trick Art Museum
When: Wednesday 31st October, 9am – 9pm
Cost: $9.90
More info: artbox.studio
💀 October 31 : Haunted Republic Costume Party 💀
Dress at your ghoulish best and you could win the $50 cash prize for the best costume, scariest costume or best couple! Enjoy complimentary 'trick or treat' vodka drinks for revellers from 7pm – 8.30pm, and live DJ sets all night.
Where: The Republic, Sala Kamreuk Road
When: Wednesday 31st October, from 7pm
Cost: free entry
More info: Facebook
😱 October 31 : Halloween Party at Malis 😱
Join Malis Halloween night for undead fun and excitement! Get spooky on the dance floor to blood-curdling beats with FREE FLOW drinks and succulent canapés. Only $18 per person. Go dressed to distress in your fiendishly best Halloween costumes. Prizes go to the scariest, best, and most creative costume! Or dare to enter their undead eating contest to win vouchers for Malis Siem Reap or Khéma Angkor. Can you survive a bite from the Mystery Box?
Where: Malis Restaurant, Pokabor Ave
When: Wednesday 31st October, 8 – 11pm
Cost: $ 18 per person
More info: Facebook
🕸 October 31 : Halloween Party at The Angkor What? Bar 🕸
This Pub Street venue will host its frighteningly good annual Halloween party once again, with prizes for the most creative costume. It's time to start thinking about your outfit!
Where: The Angkor What? Bar, Pub Street
When: Wednesday 31st October, until 3am
Cost: free entry
More info: Facebook