Following almost a year of intense work, Brooklyn-based artist Julia Haw returned to Cambodia for the launch of her first international solo exhibition at One Eleven Gallery in Siem Reap.
Opening to a full-house on 11 January 2018, "Same Same But Different" is the latest series of work by Haw, who had spent three months in early 2017 volunteering at Colors of Cambodia, an NGO offering free art education to Cambodian children. It was during this time that she formulated the new series surrounding her observations and experiences in a country which she says has "changed the landscape of her mind".
Extensively detailed, Haw's hyper-realistic paintings focuse on actual scenes she encountered during her stay here, most of which would be familiar to every one living in Cambodia. From the depiction of a dentist office in "Cambodian Smile" to the statue of Daun Penh in Wat Phnom in "Lipstick Queen", the series examines the similarities and differences between Southeast Asian and Western cultures, utilising political and historical realities, social interactions and humour.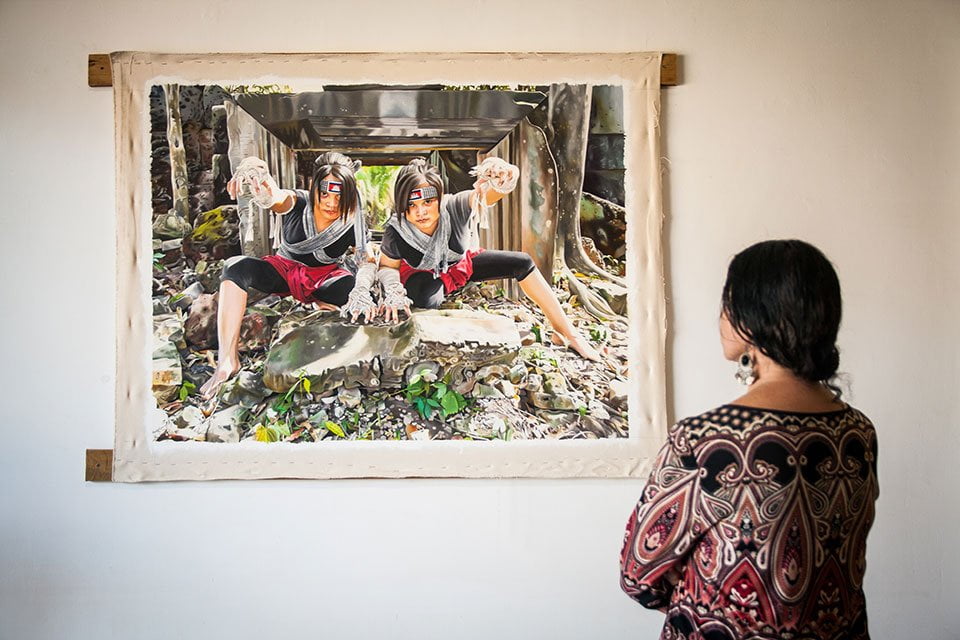 The feature piece of the exhibition, "Bokator Twins", features Haw's twin friends Phany and Sophanin – two women currently studying the ancient art form of Bokator, a traditionally male dominated sport. Referring to it as a feminist and political piece, as well as a tribute to her friends, Haw explains that she wanted to address the "overall subtle and at times overt repression of females in Cambodian society".
"Same Same But Different" will be on show at One Eleven Gallery till 31 January, 2018.