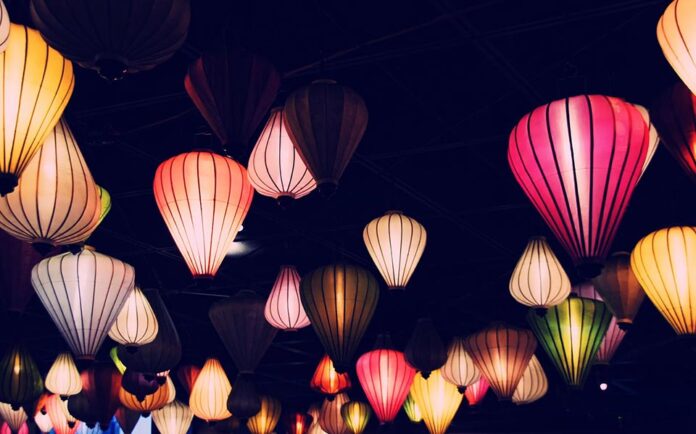 We look ahead at what's on in Siem Reap in the coming month and compile one handy monthly round-up so you can fill your diary ahead of time. Follow our Facebook page and join our friendly community for the very latest event announcements and news.
Phare Circus will be performing three of their exhilarating shows during February. Book now for 'Khmer Metal', 'Same Same But Different' and their hit new show 'White Gold', all telling poignant stories set to high-energy live music from Phare Circus's young musicians. Attend performances at 8pm (daily) or 5pm (Mondays, Thursdays and Saturdays).
Made in Cambodia Market features free live performances of traditional dance and talented local musicians on stage amid the bustling market's craft stalls. February performances are on weekend evenings from 6pm.
Check the full schedule here.
Chinese New Year
On February 5 the new moon heralds the beginning of the Chinese new year, the Year of the Pig, which is widely celebrated across Cambodia.
In Siem Reap, T-Galleria by DFS will be the center of festivities, with
a series of fabulous promotions, exclusive offers, and fun interactive activities from February 1 – 17. Attend a traditional lion dance, explore the Lunar New Year fair, play the Fortune Catcher game and enjoy several other not-to-be-missed activities! Full schedule and details in a handy downloadable brochure.
Looking for Chinese New Year buffets? find some of our favorite offers in the social calendar below!
Other Important Dates
February 14 – St Valentine's Day: The annual celebration of love brings many opportunities for romantic meals, gifts of flowers and even proposals of marriage.
💘 Our round-up of Valentine events in Siem Reap is here! Check out our favorite venues to celebrate the most romantic day of the year! 💘
February 19 – Meak Bochea Day: A public holiday throughout the region, when Buddhists commemorate the final sermon of Buddha in which he outlined the three important principles that characterise the religion.
Social Calendar
February 2-3: Folk Art & Blues (FAB) Fest
Siem Reap is the third stop for the local and international artists touring Cambodia and who form the line-up for the annual music extravaganza. Catch CSP Mothership, Geography of the Moon, Kampot Playboys, Space Wagon and Frankie Teardrop Dead, to name a few. The weekend includes film screenings and art exhibitions, too.
February 2: Arabian Night – Couscous Party
Music, henna, a Royal Couscous meal and a welcome mint tea are all included in the tickets for this Arabian Nights party. Tickets must be purchased in advance at Christines, Free Your Art or directly at La Couleur du Thé.
February 2 – 3: It's a Crêpe Party! All You Can Eat!
Sweeten up your weekend with crêpe flavours such as sugar, chocolate and jam – or all three – with this all-you-can-eat deal. The price includes a tea or coffee and kids can opt for a flavoured drink.
February 2 – 3: BeatBoutique presents youANDme
The German electronic music world sends us youANDme for a whole weekend of their techno beats. Fresh from touring internationally, most recently at the Epizode festival on Phu Quoc island, you can catch them at two venues – The Village Café and also the beach club vibe at Cambo Beach Club. Support is from BeatBoutique Asia's DJ, Strangefruit, and Cyril Grouvel.
February 3: The Gatsby Jazz Brunch #3
Mr Lorenzo Chetty from Groove Emporia will deliver his trademark upbeat jazz and lounge tunes to diners enjoying the third Gatsby Jazz Brunch. Book your table by calling 063 968 590 or email fbm.sr@shintamani.com
February 4, 5, 6: Chinese New Year Buffets
🐷 Raffles Grand Hotel d'Angkor: Celebrate Chinese New Year poolside at Raffles. Delight in a Chinese-themed buffet dinner including a traditional lion dance show and spectacular decorations! February 4, 6.30pm – 10.30pm. $88 nett per person with free-flow wine, beer and soft drinks. Book by calling +855 63 963 888 or email dining.grandhotel@raffles.com.
🐷 Le Meridien: Steeped in centuries of Chinese tradition, reconnect with family and friends and share auspicious greetings over a sumptuous banquet inspired by Chinese New Year culinary customs. $25 nett per person. February 4 & 5, 6pm – 10.30pm. More info on Facebook.
🐷 Courtyard by Marriott: Let's toss to good health and wealth with handpicked ingredients with a special Chinese New Year Buffet menu, featuring salmon sashimi yusheng platter, sushi, whole suckling pig, steam grouper fish and many more! February 5, 7pm – 10.30pm. $27++ per person. More info on Facebook.
🐷 Hunkaar Table & Lounge: Usher in the Year of the Pig with a celebratory feast, including roasted pork and roasted duck. February 5, 6pm – 10.30pm. $45 adult / $22.50 child below 7 years. Book by calling +855 63 965 600 or email fbm@hunkaartableandlounge.com. More info on Facebook.
February 8: We Stand Hand in Hand
Contributing to a good cause has never been so tasty! Enjoy unlimited wine and cheese and enter the raffle to win a fabulous prize at this unique event to raise funds and awareness of Naga Earth. This local organisation is committed to protecting the environment and public health, and champions improvements to hygiene through their eco-friendly soap programme.
February 8: Retro Electro Party
Glam your Friday night with retro-electro clash, acid house, ghetto house and techno tunes from DJ Adam Scott. The dress code is all things fierce – think stilettos and tutus, flares and platforms.
February 14 – 16: Cambodia Sports Festival
Open to all ages and abilities, this celebration of all things sport offers a variety of team building events. Choose to participate in tennis, football, volleyball, running, mountain biking and a mini-triathlon. There will also be a golf tournament held at the Angkor Golf Resort.
February 15: 180°, Homeless Artists Collective
Homeless Artists Collective is a collective of 3 young Cambodian artists,
Shanghai Chang, KWN23 and Many Sin, who share the same passion for art. First exhibited as a collective in January at Bong The Gallery in Phnom Penh, '180°' at MIRAGE Contemporary Art Space is their second exhibition, which comprises sublime dressmaking by Shanghai Chang, paintings by KWN23 and steel sculptures and screen prints by Many Sin.
February 16: 90s Bash – Come as you were!
Step back in time to the 90s, the decade that gave us Grunge, Britpop and Indie music. There will be a prize for the best costume, a raffle and 90s tunes to dance the night away to. Proceeds from this evening will go to ABCs and Rice.
February 23: Siem Reap Tourism Club
Join the first STC event of 2019 at Khéma Angkor rooftop with a free-flow house wines, beers, soft drinks, and a great BBQ & buffet for only 28$ net per person! This will be the occasion to introduce you Siem Reap French Week that will take place from 7-10 March 2019 in Raffles Hotel Angkor.
RSVP: angkor@khema-restaurant.com
or call 015 412 888 to confirm your presence.
February 28: Seafood Flambé at Courtyard by Marriott Siem Reap Resort
Give in to the wonderful combination of first-class ingredients and flavours with the finest liquors and cognacs embracing a unique taste of Courtyard by Marriott Siem Reap's Seafood Flambé on February 28th!
Their fiery preparation of New Zealand green mussels or Sihanoukville clams will certainly ignite your taste buds, while the lovely banana flambé with homemade ice cream, black fermented sticky rice, honeycomb and salted caramel sauce is a worthy finale to this delicious flambé spectacle!
February 28: Gin Club at Bensley's Bar
Combining old school classic cocktails with some new creations, you can relax in style at the Bensley designed gin bar at Shinta Mani Angkor. Enjoy extended happy hours during this special night. Enjoy buy 1 get 1 promotions on Four Pillars Gin & Tonic and signature cocktails.
Also Don't Miss…
Our pick of daily and weekly events at some of our favorite venues in town!
Ladies' Night: All ladies get to order any drink and enjoy one round for free. It's time to put on those heels and get ready for the ultimate girls party! Wednesdays from 5pm – 1am. More info on Facebook.
Pizza and Pasta Party: Enjoy an all-you-can-eat pizza and pasta party at Courtyard's Lok Lak restaurant. Try special creations like larb & amok pasta, apple & goat cheese pizza or chicken lok lak pizza! $15++ inclusive of free flow chilled juice, soft drinks and 1 draft beer. Saturdays 11am – 2.30pm. More info on Facebook.
Sunday Brunch: Start the day right with an all-you-can-eat brunch, offering a-la-carte favorites like eggs benedict, smoked salmon platter and many more! $17++ per person, add $8++ for free flow Bloody Mary, add $12++ for free flow Bloody Mary and Mimosas (2 hours). Sundays 11am. More info on Facebook.
Sunset Specials: Witness a spectacular sunset whilst enjoying a special 3-course set menu curated by Executive Chef Chanrith Van. $19++ per person inclusive of 1 cocktail. Sundays, 5:00pm – 6:30pm. More info on Facebook.
Live Music by X-Rays: X-Rays band will rock your Monday night with Classic Rock, Rock, Metal and other 80s favorites. Mondays from 8pm onwards. More info on Facebook.
Sunday Kids Eat Free: Need an air-conditioned place to go with your family and kid? We are offering a Kids eat for free on every Sunday. More info on Facebook.
Saturday BBQ Night: Every Saturday night is BBQ night at strEATs restaurant! Indulge yourself in a mouthwatering BBQ buffet, filled with a variety of meats and seafood. Saturdays from 6pm onwards. $10 per person. More info on Facebook.
Open Counter: Enjoy all-you-can-eat imported cheeses and house-made cold cuts. $18.90++ per person. Daily until February 13. More info on Facebook.
Free-Flow Brunch: Enjoy an unlimited selection of eggs, Cambodian breakfasts, freshly-baked breads, danishes, cereals and homemade yoghurt, including hot and cold drinks. $10.90++ per person. Saturdays, Sundays & Public Holidays from 6.30am to 3pm. More info on Facebook.
Weekend Pool Brunch: Relax by the pool, take a refreshing dip and indulge in a buffet brunch. Adults $18+, children $10+ and under 5s are free. Saturdays & Sundays, 11am – 3pm. More info on Facebook.
Khmer Community Class: Join the yoga community class that brings together Khmer, foreign residents and travelers. Available to all levels and body types, free for all locals. Mondays from 6.30pm – 7.45pm; Book by calling +855 63 964 864 or email reservations@navutudreams.com. More info on Navutudreams.com.
Cultural Dinner & Performance: Enjoy an enchanted evening at the beautiful courtyard with performances from elegant Apsara dancers (Mondays and Fridays), and Bokator (Wednesdays and Sundays). Set menu from $35++ per person, a la carte also available. Mondays, Wednesdays, Fridays, Sundays from 7pm – 8pm. Book by calling +855 632 1234 or email diningroom.repph@hyatt.com.
Vintage Afternoon Tea: Channel your inner Dowager Countess with a Vintage Afternoon Tea at Raffles. Fridays, 2.30pm – 5.30pm. $25++ per person. Book by calling +855 63 963 888 or email dining.grandhotel@raffles.com.

Valentine's Spa: Luxuriate with the one you love at Raffles Spa or pamper yourself before the date of your dreams, with a 60-minute warm oil massage and 40-minute Toxin-cleanse wrap. Available daily from 9am – 10pm. $120++ per person, $180++ per couple. Book by calling +855 63 963 888 or email spa.siemreap@raffles.com.
The Sound of Sofitel: Relax in Sofitel's lobby while listening to the music of their pianist, playing the best of smooth jazz and classical repertoire, followed by an ancient Cambodian harp resonate. Then move to their Explorer's Tales Bar from for a truly enjoyable evening of wine, tapas and live music. Pianist: Mondays – Saturday, 1pm – 5pm. Harpist: Daily 5pm – 6pm. Guitarist: Tuesdays – Saturdays, 6pm – 9pm. More info on sofitel-angkor-phokeethra.com.
Organizing an Event in Siem Reap?
Feel free to let us know so that we can consider including it in this or the upcoming article for March 2019. Get in touch through the contact form or send us a PM on our Facebook page.