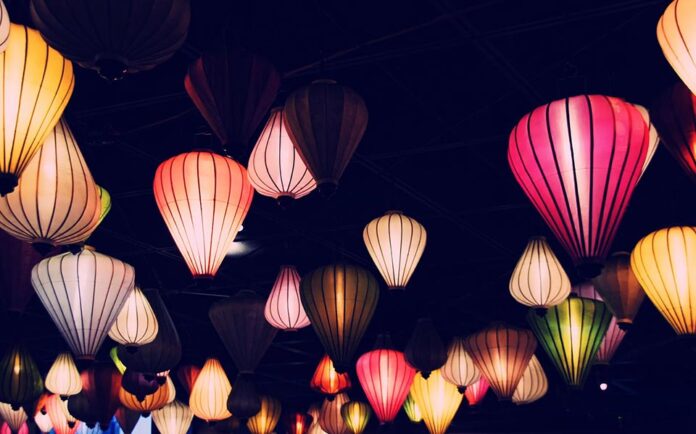 We look ahead at what's on in Siem Reap in the coming month and compile one handy monthly round-up so you can fill your diary ahead of time. Follow our Facebook page and join our friendly community for the very latest event announcements and news.
Soieries du Mékong, a social enterprise, creating and selling artisan scarves, invites you to a free exhibition entitled 'Women's Tales' which expresses the fascinating stories behind the women who produce these unique, hand woven accessories. Visit the Sofitel Angkor Phokeethra Golf & Spa Resort's linkway – open to all, daily from 9.30am – 6.30pm until February 16.
💘 Our round-up of Valentine events in Siem Reap is here! Don't miss our favorite venues to celebrate the most romantic day of the year! 💘
Social Calendar
February 2: Free-Flow Crêpes Party at Khéma!
Celebrate Chandeleur (or Candlemas) at Khéma, with a delicious free flow crêpes party. Choose your fillings from chocolate, jam or sugar, and also enjoy tea, coffee and flavoured drinks. Book your table online here. www.khema-restaurant/reservation
Where: Khéma Angkor
When: Sunday 2nd February, 3-5pm
Cost: $6++
More Info: Facebook
February 6: Angkor Hospital for Children Benefit feat. PlanB
A night of live music courtesy of Australia's rock'n'soul specialists, PlanB, who will take to the stage for their first set at 7pm. Proceeds from entry fees and raffle ticket sales will support the outstanding work being carried out at the Angkor Hospital for Children. Raffle tickets are available to purchase, with many great prizes up for grabs.
Where: Cambo Beach Club
When: Thursday 6th February, 6-11.30pm
Cost: $2 entry for adults includes 2 free raffle tickets, children enter free. More Info: Facebook
February 7: War & Beauty Exhibition
Award winning documentary film maker, Dr. David A. Feingold presents this photo exhibition documenting Cambodia's history through the lens of culture, politics and war. Divided into four themes covering war, culture, transition to pace and the impact of land mines, visitors will have a chance to experience the changes in Cambodia over a 30 year period, as witnessed by Feingold. On this opening evening, a screening of Feingold's film Waiting for Cambodia will be shown.
Where: FCC Angkor by Avani
When: Friday 7th February 6-8pm. The exhibition runs until 28th February.
Cost: Free entry. RSVP by email
More Info: Facebook
February 7: Hard Rock Café Siem Reap, PlanB "Som Chop Tini Tour" 2020
Australian 8 piece rock and soul sensations PlanB will rock the stage from 7pm as part of their Cambodian tour, before heading to Phnom Penh.
Where: Hard Rock Café Angkor
When: Friday 7th February, 7-11.30pm
Cost: Free entry
More Info: Facebook
February 9: Navutu Full Moon Yoga
Harmonize with the bright side of the moon! You'll be guided through a grounding session of pranayama & meditation followed by a dance-like yoga flow to balance your energy and bring you to a state of harmony and well being. End with a fire circle to release what we no longer want to carry with us into the next moon cycle.
Where: Navutu Dreams Resort
When: Sunday 9th February, 6-7.30pm
Cost: $9 per person, including all day pool access
More Info: Facebook
February 21: Oyster Night at Modesty Bar by Khéma
Modesty Bar by Khéma is the meeting place for oyster aficionados. Enjoy an ALL-YOU-CAN-EAT buffet, including fresh and baked Pacific Oysters from Ostra Fine Foods, but also a free flow of other buffet dishes, wines, draft beers and soft drinks.
Where: Khéma Angkor
When: Friday 21th February, 6.30-8.30pm
Cost: $35++ per person
More Info: Facebook
February 29: Navutu Workshop: Yoga Nidra & Tibetan Bowls Sound Bath
Dive deep into your soul, recharge, and balance your nervous system with a Yoga Nidra course at Navutu Dreams. Step by step, you'll be guided through the process. Once you are in a state of deep relaxation, the subtle healing sound frequencies of Tibetan Sound bowls will help your body, mind, and soul to deeply relax, rebalance and be nourished. This course is accessible for anybody. No previous experience required.
Where: Navutu Dreams Resort
When: Saturday 29th February, 11am-1pm
Cost: $15 per person, including all day pool access
More Info: Facebook
February 29: 60 Road Studios 5th Anniversary
60 Road Studios celebrates its 5th anniversary with a great line up of live original music & performances: Varty Ganiva, Miss Sarawan, Sam Rocker, Scapegoat Candy, Melissa Lingo, CSP Mothership & Siem Reap Heat. Free admission with catering by The Tajine (vegan) and Cambodia Catering (meat options).
Where: 60 Road Studios
When: Saturday 29th February, 4.30-11pm
Cost: Free admission
More Info: Facebook
Also Don't Miss…
Our pick of daily and weekly events at some of our favorite venues in town!
Anantara Angkor Resort welcomes you to Chi Restaurant for its daily happy hour from 5 – 7pm with buy one, get one specials on wine, whiskey, liquors, cocktails and mocktails.
Wouldn't it be great if there was a beach in Siem Reap? Guess what? Cambo Beach Club made this wish come true. Not only do they have a huge pool surrounded by fine white beach sand, they also organise themed pool parties and happening. Sundays are family days with Soma Jazz Band during sunset. On Monday afternoon starting at 2pm you're welcome to join in their classic music pool party. Wednesdays are ladies nights, with Latino pool parties and get 2 for 1 drinks. On Fridays you ring the weekend with their discofunk pool party. See you at the beach!
Plenty of events to be enjoyed at Courtyard by Marriott! On Wednesdays, we have Ladies' Night at Upperdeck (5pm – 1am), when all ladies get to order any drink and enjoy one round for free. Saturdays mean Pizza and Pasta Party at Courtyard's Lok Lak restaurant from 11am – 2.30pm. Enjoy all-you-can-eat pizza and pasta offerings for $15++ inclusive of free flow chilled juice, soft drinks and 1 draft beer at Upperdeck. Start the day right on Sundays with Courtyard's famous Sunday Brunch at 11am for only $17++ per person. Dine in style on Sunday evenings (5pm – 6.30pm) with Courtyard's Sunset Specials: Witness a spectacular sunset whilst enjoying a special 3-course set menu curated by Executive Chef Chanrith Van. $19++ per person inclusive of 1 cocktail. Find all the details about above events on Facebook!
Expect daily culinary events at one of Siem Reap's greatest landmarks, FCC Angkor. Indulge in a wine and culinary experience every Monday and Wednesday at The Mansion. Every Thursday is Ladies Night with two for one cocktails at Scribe bar, while on Fridays FCC Angkor's fabulous outdoor bar is featuring BBQ Nights. Other weekly events at FCC Angkor include Late Night Sip & Mingle Gin Hour on Tuesdays, Dine with History on Thursday and Saturdays, Surf & Turf Redefined also on Saturdays and Pizza Specials on Sundays. All this and more on their Facebook page.
Join this free walk-in event run by BlaBla Language Exchange to promote exchanges and meetings between locals and expats in major cities around the world. No reservation necessary. Every Thursday from 7pm. More on Facebook.
Every Friday enjoy live music and an evening to remember at the Hard Rock Café Angkor's Tribute nights by ID Talent starting at 8pm. On Friday 7th February, the band will treat you to a Metallica Tribute Night. Expect a special Valentine Tribute Night on 14th February. On Friday 21th February, it's AC/DC Tribute Night. The music of Gun N'Roses will entertain you on Friday 28th February with a Gun N'Roses Tribute Night to end the month.
Free-Flow Brunch: Enjoy an unlimited selection of eggs, Cambodian breakfasts, freshly-baked breads, danishes, cereals and homemade yoghurt, including hot and cold drinks. $11.90++ per person. Saturdays, Sundays & Public Holidays from 6.30am to 3pm. In addition, fans of excellent wine, beer and buffet style French dishes will love Khema's Thursday Wine & Dine deal. For $20.90++, diners can enjoy free flow wine and beer along with a selection of delicious cold cuts, fine cheeses and an array of French food. Every Thursday 6-8pm. Bookings are recommended. On Saturdays from 6:30pm to 8:30pm, Modesty Bar by Khéma Angkor is the place to be for all barbecue lovers. Along with sunset vistas, enjoy freshly grilled sausages, beef and chicken skewers, plus free flow of beers, soft drinks and snacks for only $14++. Not to be missed are the daily happy hours from 6pm to 8pm at Modesty Bar by Khéma Angkor. Sit back and relax on the restaurant's rooftop bar while sipping your buy 1 get 1 promotional festive drink. More info on their Facebook page and website.
Start you day off right with Le Meridien's Relaxing Buffet Breakfast with Pool Access. Enjoy a scrumptious buffet breakfast for just 12 USD a person (6 USD for kids under 12) and unwind by the tropical pool with all day long happy hour! Available daily from 6 – 10am. Afternoon Tea for Two at only 23 USD net per set, available daily from 2 – 5 pm at Lobby Lounge. Quench your thirst with a 2-hour free flow wine, beer, and selection of cocktails along with two selections of Le Meridien Angkor's signature petit plates, available daily from 11am until midnight at Naga Bar (USD 22 net per person). Visit their Facebook page for the latest updates and happenings.
The Pumphouse, Lub d's new bar concept brings a host of new happenings to town. Every Monday from 6p-10pm: Can you beat the barman? Order a drink, flip a coin, if you win the drink is free! Every Tuesday from 6-10pm: Boys love bubbles! Buy one get one free on Cambodia Draft beer just for the boys. Thursdays are Therapy nights for the ladies, with an unmissable deal. $10 for Free flow Bubbles from 6-10pm. Enjoy 70s, 80s and 90s tunes at The Pumphouse's Flash back Fridays nights. Cambodia Draft just 50c from 6-8pm. Every Saturday from 3-7pm: Saturdaze Pool Party! Enjoy free entry, fun and games with prizes, poolside BBQ, DJ and happy hour. More info on Facebook.
Made in Cambodia Market offers free traditional dance or musical performances every Friday and Saturday evening from 6pm. The philosophy behind the Made in Cambodia Market is to help create Khmer jobs; from the villagers producing the handicrafts to the sellers interacting with customers. More info in February's event schedule.
Enjoy an unlimited number of servings from Malis Restaurant's dedicated breakfast menu. AM delicacies include soups, noodles, congees, eggs and beverages. This free-flow breakfast is available every day from 6:30am to 10:30 am for $7++ only. Not such an early bird or breakfast lover? Then the free-flow grill lunch is a perfect alternative. Indulge in living Cambodian cuisine and delight your taste buds with an unlimited number of servings from their special grill menu. Available every day from 11:30 am to 3pm for $19++ per person. The hours between 5pm to 8pm are called Happy Hours at Malis' Chhatra lounge. This is when you get to enjoy Buy 1 Get 1 Free promotions on cocktails, beer and wine.
Join the yoga community class that brings together Khmer, foreign residents and travelers. Available to all levels and body types, free for all locals. Mondays from 6.30pm – 7.45pm; Book by calling +855 63 964 864 or email reservations@navutudreams.com. More info on Navutudreams.com.
Phare Circus, a social enterprise supporting education and performing arts training in Cambodia, will be performing three of their exhilarating shows during February. Book now for 'Eclipse', 'Khmer Metal' and 'White Gold'.
The Sound of Sofitel: Relax in Sofitel's lobby while listening to the music of their pianist, playing the best of smooth jazz and classical repertoire, followed by an ancient Cambodian harp resonate. Then move to their Explorer's Tales Bar from for a truly enjoyable evening of wine, tapas and live music. Pianist: Mondays – Saturday, 1pm – 5pm. Harpist: Daily 5pm – 6pm. Guitarist: Tuesdays – Saturdays, 6pm – 9pm. More info on sofitel-angkor-phokeethra.com.
Still Looking for More?
Thanks to our ultimate list of happy hours in Siem Reap, you'll be spoiled for choice for post-work or pre-dinner drinks, any day of the week. Whether you are looking for sunset views, poolside hangouts or elegant hotel bars, we have selflessly scoured the city for the very best affordable drink offers that are not just happy – they're positively joyful!
Organizing an Event in Siem Reap?
Connect with us to be included in this or our upcoming article for March 2020. Get in touch through the contact form or send us a PM on our Facebook page.