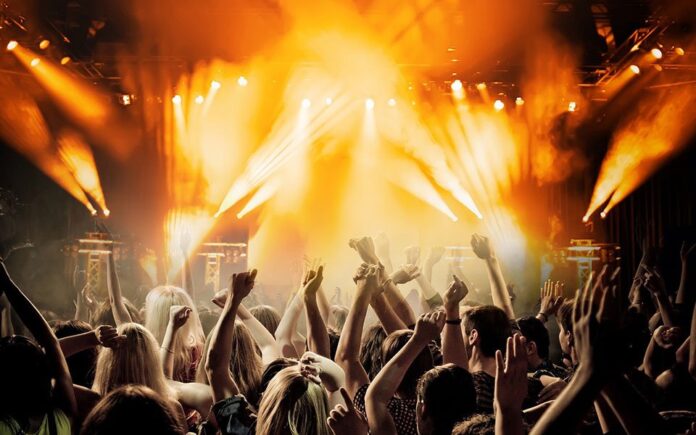 We gather Siem Reap's upcoming events into one handy listing at the start of every month, so you can easily follow the city's happenings. Don't forget to subscribe to our Facebook page for the latest information and new event announcements!
Phare Circus, Cambodia's innovative social enterprise supporting education and performing arts training, has announced it's October schedule of performances. Book now for the dynamic and high-octane performances in 'Eclipse', 'Khmer Metal' or 'White Gold', all delivered with their trademark enthusiasm, set to high-energy live music.
Made in Cambodia Market invites you to enjoy free live shows at the performance space amid the colourful craft stalls. October performances include Cambodian folk dances and traditional music on weekend evenings between 6-7.30pm.
🎃
The annual spook-fest Halloween returns on 31 October. Let us know if you're planning an event in Siem Reap and we'll include it in our special Halloween round-up. Contact us before 15 October!
🎃
Public holidays
October 15 – Commemoration Day of King's Father: Cambodians honour their former king, Norodom Sihanouk, who passed away seven years ago on this day.
October 23 – Paris Peace Agreement Day: A public holiday commemorating the 1991 Paris Peace Agreements which marked the end of the decades-long turmoil inflicted by the Khmer Rouge since 1975 and ended warfare between Cambodia and Vietnam.
October 29 – King Sihamoni Coronation Day: This is a day to commemorate King Norodom Sihamoni, who ascended the throne on this day in 2004.
Social Calendar
October 4: Your Own Computer Light Portrait
Sovan Philong's exhibition entitled How Do I Look? features 15 uniquely photographed portraits. Each one was photographed with the illumination from a computer screen as the only source of light. At this special event, Sovan will be on hand to discuss his photography. If you wish to participate, Sovan will photograph your computer-lit portrait and present you with a signed print to take home. The exhibition runs until October 19.
October 5: OKAIN at Cambo Beach Club
Okain, the acclaimed house and techno DJ and producer, will be hosted by Cambo Beach Club for one night. Line up includes DJ Cyril Grouvel and DJ Calbo.
October 5: HOWL Word Jam 2019
This special open mic event, hosted by One Eleven Gallery, is open to all. Poets, writers of fiction or non fiction can participate in this friendly battle for the title of Siem Reap's Spoken Word Artist 2019.
October 6 & 13: Sunday Pool Brunch at Victoria Angkor Resort
Who Said Sundays are for sleep-ins? It's time for Victoria Angkor Resort's famous Sunday Pool Brunch! Expect imported oysters, home smoked salmon, grilled meats, seafood, cheeses and deserts. Only $25 nett per person including free flow of white / red / sparkling wine AND access to the pool, gym and kids' club facilities! These are the last pool brunches of the season, so don't miss them!
October 6: Sugar Talks – Stories Worth Listening To – Vol. 10
Sugar Talks invites you to bring your ten minute 'passion' stories to share with each other. Join the tenth in this community-driven series of talks and spend 30 minutes networking and enjoying a drink before settling in to a spot on the balcony to hear others' powerful stories.
October 13: Green & Grow Fundraising
Enjoy this special event, which aims to raise awareness about the need to reduce plastic wastes. Talented music and performing arts students from Phare Ponleu Selpak will present a specially themed performance focusing on environmental issues, followed by a circus show and live music performances. Crafts made from recycled waste will also be on sale, along with an informative exhibition in the bar area.
October 19: Navutu Poolside Fashion Show by Muoy Chorm
Proudly showcasing his new resort wear collection in a poolside fashion show is Muoy Chorm, Siem Reap based fashion designer. Come for the exciting fashion but stay for the fun pool party, food and drinks and music from DJ Krissna Khameak of AKA.
October 19: Ignite Siem Reap
Featuring an inspiring collection of speakers from Cambodia, Ignite Siem Reap is one of Ignite's worldwide events aimed at encouraging public speaking skills in young people.
October 20: Sunday Brunch with Pool Access at Hunkaar Table & Lounge
Indulging in a Sunday brunch may take a bit of splashing out but it's well worth the treat. And afterward, you can chill poolside at the award-winning Anjali by Syphon.
Also Don't Miss…
Our pick of daily and weekly events at some of our favorite venues in town!
Anantara Angkor Resort welcomes you to Chi Restaurant for its daily happy hour from 5 – 7pm with buy one, get one specials on wine, whiskey, liquors, cocktails and mocktails. Also don't miss Elements, an exhibition by Carne Griffiths, one of UK's best loved artists, whose work in ink, tea and alcohol has captured the public's imagination. The display of limited edition prints and original pieces can be visited for free until October 31st. More info on Facebook.
Wouldn't it be great if there was a beach in Siem Reap? Guess what? Cambo Beach Club made this wish come true. Not only do they have a huge pool surrounded by fine white beach sand, they also organise themed pool parties and happening. Sundays are family days with Soma Jazz Band during sunset. On Monday afternoon starting at 2pm you're welcome to join in their classic music pool party. Wednesdays are ladies nights, with Latino pool parties and get 2 for 1 drinks. On Fridays you ring the weekend with their discofunk pool party. See you at the beach!
Plenty of events to be enjoyed at Courtyard by Marriott! On Wednesdays, we have Ladies' Night at Upperdeck (5pm – 1am), when all ladies get to order any drink and enjoy one round for free. Fridays (5pm – 9.30pm) bring us Street Food Party with authentic street food offerings, starting from just KHR 5,000! Saturdays mean Pizza and Pasta Party at Courtyard's Lok Lak restaurant from 11am – 2.30pm. Enjoy all-you-can-eat pizza and pasta offerings for $15++ inclusive of free flow chilled juice, soft drinks and 1 draft beer at Upperdeck. Start the day right on Sundays with Courtyard's famous Sunday Brunch at 11am for only $17++ per person. Dine in style on Sunday evenings (5pm – 6.30pm) with Courtyard's Sunset Specials: Witness a spectacular sunset whilst enjoying a special 3-course set menu curated by Executive Chef Chanrith Van. $19++ per person inclusive of 1 cocktail. Find all the details about above events on Facebook!
Every Thursday is Ladies Night with two for one cocktails at Scribe, FCC Angkor's fabulous outdoor bar. Sit back and relax on the deck with a classic Mojito, Cosmopolitan or Margarita, all included in the deal, every Thursday between 6-11pm. More info on Facebook.
Join this free walk-in event run by BlaBla Language Exchange to promote exchanges and meetings between locals and expats in major cities around the world. No reservation necessary. Every Wednesday from 7pm. More on Facebook.
Keep up with the score of your favourite team and catch Rugby World Cup matches live! Upstairs on the big screen you can enjoy Hard Rock Cafe's renowned food and drinks menu while watching the world's rugby heroes battle it out, streamed live from Japan. More info on Facebook.
Hunkaar Table & Lounge turns Sunday brunch into a full-on event. For just $15 per adult (and half the price for kids below the age of seven), you can enjoy a collection of international cuisine, picking and choosing what interests you at the buffet table. Hop in the pool after you settle your stomach, and revel in refreshments the afternoon over. Available every other week, from October 20th until the end of the year, reservations: fbm@hunkaartablelounge.com or +855 63 965 600, more info on Facebook. More info on Facebook.
Celebrate the weekend with Le Meridien's Relaxing Weekend Breakfast with Pool Access. Enjoy a scrumptious buffet breakfast for just 12 USD a person (6 USD for kids under 12) and unwind by the tropical pool with all day long happy hour! Available on Fridays, Saturdays and Sundays from 6 – 11am. Visit their Facebook page for the latest updates and happenings.
Free-Flow Brunch: Enjoy an unlimited selection of eggs, Cambodian breakfasts, freshly-baked breads, danishes, cereals and homemade yoghurt, including hot and cold drinks. $11.90++ per person. Saturdays, Sundays & Public Holidays from 6.30am to 3pm. More info on Facebook. In addition, fans of excellent wine, beer and buffet style French dishes will love Khema's Thursday Wine & Dine deal. For $20.90++, diners can enjoy free flow wine and beer along with a selection of delicious cold cuts, fine cheeses and an array of French food. Every Thursday 6-8pm. Bookings are recommended. More info on Facebook.
Weekends are always fun at Memoire Palace Resort! Relax by the pool, take a refreshing dip and indulge in the buffet-style weekend pool brunch. Adults $18+, children $10+ and under 5s are free. Saturdays & Sundays, 11am – 3pm. More info on Facebook. Do you have kids? Then don't miss the Kids Bakery Class, available on Saturdays. $18 per person, more info here.
Khmer Community Class: Join the yoga community class that brings together Khmer, foreign residents and travelers. Available to all levels and body types, free for all locals. Mondays from 6.30pm – 7.45pm; Book by calling +855 63 964 864 or email reservations@navutudreams.com. More info on Navutudreams.com.
Come to Rambutan Restaurant each Friday for lunch or dinner and enjoy the special Green Season promo: Friday's Choices! Enjoy one cocktail or mocktail + one starter + one main + one scoop of sorbet for only 15 USD. Free access to the pool included as well! More details on Facebook.
Cultural Dinner & Performance: Enjoy an enchanted evening at the beautiful courtyard with performances from elegant Apsara dancers (Mondays and Fridays), and Bokator (Wednesdays and Sundays). Set menu from $35++ per person, a la carte also available. Mondays, Wednesdays, Fridays, Sundays from 7pm – 8pm. Book by calling +855 632 1234 or email diningroom.repph@hyatt.com.
The Sound of Sofitel: Relax in Sofitel's lobby while listening to the music of their pianist, playing the best of smooth jazz and classical repertoire, followed by an ancient Cambodian harp resonate. Then move to their Explorer's Tales Bar from for a truly enjoyable evening of wine, tapas and live music. Pianist: Mondays – Saturday, 1pm – 5pm. Harpist: Daily 5pm – 6pm. Guitarist: Tuesdays – Saturdays, 6pm – 9pm. More info on sofitel-angkor-phokeethra.com.
Organizing an Event in Siem Reap?
Feel free to let us know so that we can consider including it in this or the upcoming article for November 2019. Get in touch through the contact form or send us a message on our Facebook page.