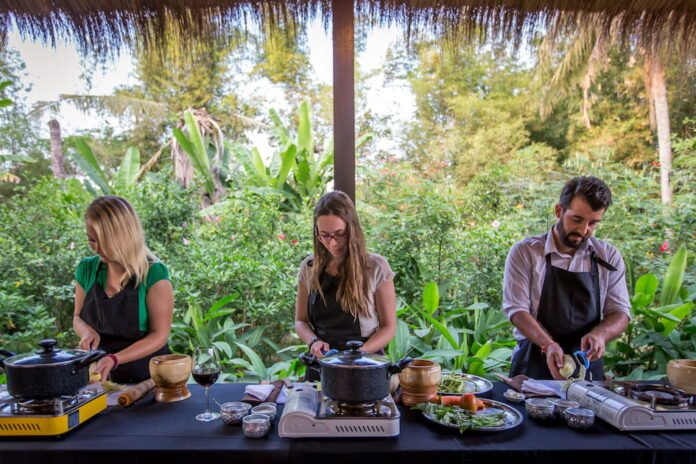 After enjoying Cambodian cuisine such as spicy khmer curry, beef Lok Lak, and fish Amok, have you considered learning how to prepare these dishes? An excellent way to immerse yourself in the local culture is to take a Khmer cooking class in Siem Reap. Cooking classes are a fun and fascinating way to learn more about Khmer culture. Most classes start with a visit to a traditional local market, and are often taught by local restaurant owners.
There are many great options for Khmer cooking classes in Siem Reap, such as:
Beyond Unique Escapes is a very popular cooking class, and boasts a well-organized and clean open-air kitchen and beautiful garden surroundings. The experienced instructors provide a very local experience by including a tour of a local family's home and a trip to a traditional market to source fresh ingredients. The class size is limited to six participants, so everybody receives personal attention from the instructors. Flexible class times include morning, afternoon, or all day sessions. Prices start at just 26 USD per person, including transportation. Booking in advance is essential.
Lily's Secret Garden is unique among Siem Reap cooking classes for its very personal family-like atmosphere and home-style Cambodian cuisine. The cooking class takes place at the cozy home of Lily and Chris, just 5 minutes away from the center, where you'll learn to cook three delicious dishes: one starter, one main dish, and one dessert. The four hour class includes a trip to a local produce market and a visit to Lily's herbs and fruits garden. Free transportation is included as well. The price is 25 USD per person and both morning and afternoon options are available.
Siem Reap Countryside Cooking Class is run by a well-established cooking school in Siem Reap. A wide variety of menu items are available to create, and the experience of each class is very authentic to Khmer culture. Classes include a tour of a bustling local and traditional market to purchase fresh produce, herbs and spices, and exotic fruits. A visit with the local village chief while eating a freshly prepared meal makes this a very fun and authentic option to choose. Views of the rice paddy fields and a wooden fire cooking stove make the class setting spectacular. Morning, afternoon, or all day classes are available. The price is 24 USD per person and includes hotel pick-up and drop-off.
Cooks in Tuk Tuks Cooking Class is a fun cooking class that doubles as a local tour as well. Classes start with hotel pick-up and a tour of traditional local markets. The group kitchen is in a river garden setting with a professional cooking set up for each person. Each class participant can choose three dishes to prepare. Popular examples are the Banana Flower Salad, Creamy Fish Amok with Rice Pyramid, and a traditional Khmer dessert of Sago, Pumpkin, and Coconut Milk. The class begins at 10am and costs 35 USD per person.
Cooking Class Le Tigre de Papier offers a wide variety of menu items to choose from. A trip to the local market for ingredients, and a small class size make this a personal and delicious experience. Located in the center of Siem Reap, it is close to Phsar Chas, a traditional Khmer food market. The school boasts specialties such as its Amok, which is a mixture of Mekong shrimp and Tonle Sap fish with coconut curry and fresh vegetables. Classes begin at 10am every day, and prices start at just 15 USD per person.
Champey Cooking Class boasts a large, brightly lit, professional kitchen that can handle class sizes of up to 30 people. Learn to make authentic, restaurant quality traditional Khmer dishes from highly experienced locals. The class is held in central Siem Reap near the Old Market in a traditional Cambodian house and beautiful garden. A vast menu of khmer dishes is available to choose from, and a visit to a traditional food market is included in the experience. Class price is 25 USD per person.
Cooking Class by Lotus Blanc Hotel is a professionally-run cooking class that features very experienced instructors. Learn traditional Khmer dishes in a pristine, modern setting, located at the luxury hotel Lotus Blanc. A local market visit is optional, and gives a fuller Khmer cooking experience. The market visit class costs 45 USD per person and runs from 9:00am – 12:00pm. A cooking class without the market visit is 30 USD per person and runs from 11:00am – 12:30pm. Cooking takes place in the hotel's lush garden near the swimming pool.
Are there other Khmer cooking classes in Siem Reap that we forgot to include in this overview? Let us know in the comment section or contact us directly!