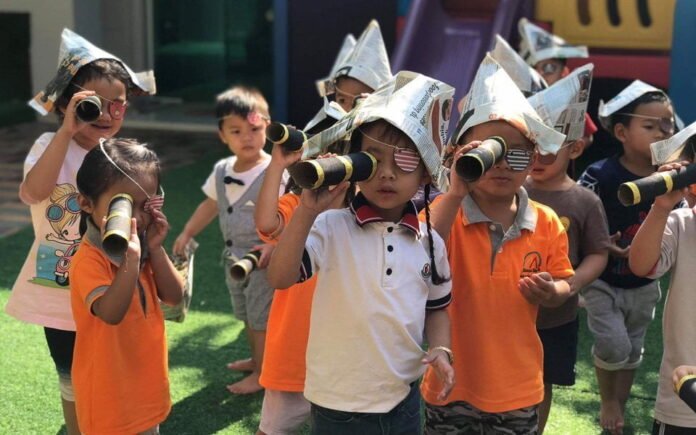 You've arrived in Siem Reap, found your way around and possibly even chosen a place to live (if not, our guide to finding long term accommodation can help you). For families newly arrived in Siem Reap, finding a school is next on the to-do list. The city has seen many new schools for expat children opening in recent years, giving parents plenty of options, from pre-school to high school, and everything in between. Unless your child can attend a Khmer school with lessons delivered in Khmer, you're very likely to be looking at a private, international school.
For parents contemplating the school system for the first time, consider the type of school you'd like your children to attend. Which languages will lessons be taught in? Which curriculum might suit your child best? Will you be staying in Siem Reap long-term or might you return to the school system in your home country? Practical considerations such as the distance of the school run, finishing times, after school arrangements and the cost of school fees, will all play a part in your final decision.
Be sure to take a look around the school of your choice, and feel free to ask questions about class sizes, curriculum, teaching methods, facilities and after school activities. A tour or open day will give you the feel for a typical school day, and the opportunity to see children engaging in lessons or play times. Other points to check out include; details of school lunches, bus or other school transport, finish time and uniform requirements. Try and view a couple of schools for comparison. Personal recommendations can be helpful when deciding on a school but it's important to remember that everyone has different experiences. What's right for one family may not be ideal for yours.
Pre-school, Primary and High School
Ideal for working parents, as well as those wanting their child to learn through play in a social environment, or to familiarise young children with a learning setting before they begin formal schooling, pre-school (or kindergarten) is a popular solution. Typically, children can start, often part-time, from a very young age, and stay until they are ready to enrol in their first school (usually around 4 or 5 years old).
Primary-aged children are well catered for in Siem Reap, with a variety of options to suit your preference. These are important years for your child, and schools for this age group should promote a stimulating and positive environment for them to master the foundations of reading, writing and maths.
For older children, Secondary or High School options aren't as prolific, particularly in the international school category. Avoid competition for places by applying in plenty of time, wherever possible. Places for milestone year groups, such as the first year of High School, get snapped up quickly either by newcomers to the city, as well as intake from existing Primary pupils.
Admission
Admission policies and procedures are often detailed on the school's website, or you can contact the school direct for more information. Many schools require new students to sit an entry assessment test, particularly if tuition is to be in English and English is the child's second language. This might be spoken as well as written, so do check with each school.
For a smooth admissions process, take several passport-sized photographs of your child, and one of each of the parent/s. You'll need copies of your child's passport and valid visa, as well as copies of your own. If your child has attended a school anywhere else, bring copies of their latest report. Have medical history and vaccination records to hand, incase these are requested for the school's records.
Siem Reap's Top International Schools
Tree House
Tree House caters for children from six months to seven years, covering nursery, pre-school and the first years of Primary.
Age group: 6 months – 7 years
More information and fees: siemreaptreehouse.com
SGIS (St George's International School)
This British Curriculum school, open to all nationalities, accepts children from age two and a half. Older children then progress into the school's Primary classes and beyond.
Age group: 2-13 (year 14 and above according to demand)
More information and fees: www.stgeorges-cambodia.com
ISSR (International School of Siem Reap)
This Primary and High School also offers early years places to children from age two and a half upwards. Admission is open to all nationalities. ISSR follows the British National Curriculum.
Age group: 2-17
More information and fees: issr.edu.kh
Go Global
Children from age three onwards can join their Lower School programme which follows the British 'Early Years Foundation Stage'. Children can continue their primary education at the school from Year 1 onwards, following either the Khmer Curriculum or the British Curriculum (tuition in English) .
Age group: 3-11
More information and fees: www.go-globalschool.com
Mount Elite School
The British 'Early Years Foundation Stage' curriculum is offered here, for children aged two to six. Older children join the Primary classes, also following the British Curriculum.
Age group: 2-11
More information and fees: www.facebook.com/mountelitessiemreap
Ecole Francaise de Siem Reap
The French School welcomes French speaking children of all nationalities for schooling in French. The curriculum conforms to the French National Education Curriculum. Non-French speakers are welcomed at Tchin Tcho Club (1-3 years old) and Kindergarten (3 – 6 years old).
Age group: 1-11
More information and fees: ecolefr-siemreap.org
ACE (Australian Centre for Education)
The ACE Children's Program (CP) is specifically designed for children from 8 to 10 years of age and is part-time.
Age group: 8-10
More information and fees: acecambodia.org
USAIS (USA International School)
The 'International Program' is a combination Australian-American Curriculum that is taught primarily in English. Childcare places are available for children aged one to two years old, and kindergarten classes follow on from this, for children aged three to five. The school then offers 'International' or 'General Khmer' education, through to age 17.
Age group: 1-17
More information and fees: usainternationalschool.net
IQ International School
Offering Pre-Kindergarten classes for four and five year olds, and Kindergarten classes for five and six year olds, this school provides Elementary, Middle and High School following the American Curriculum.
Age group: 4-17
More information and fees: iqschool.wixsite.com