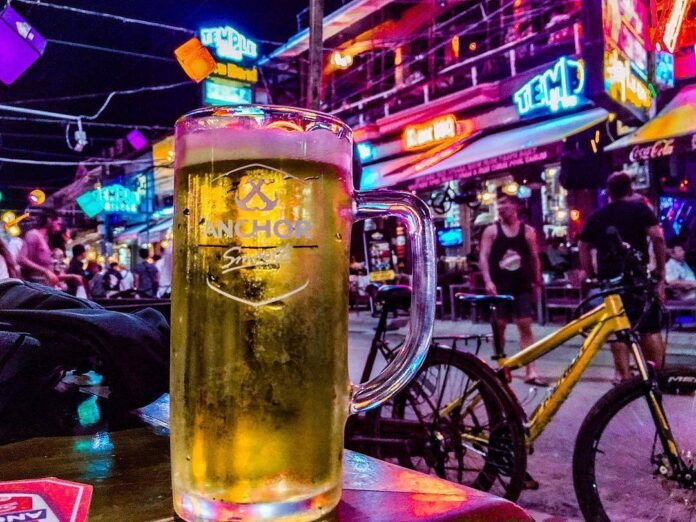 As the sun sets upon the magnificent Angkor temples, the party in Siem Reap city begins. Nightlife in the iconic Kingdom of Wonder offers an alluring variety of pubs, clubs, cocktail bars, and everything in between. In one quick stride down major roads in the city, you can indulge in a $0.50 cold Angkor draft beer, bust a move on the infamous Pub Street, and chow down on a fried tarantula (if you dare). The Siem Reap nightlife scene offers an abundance of options for all types of travelers for a fun night out in South East Asia.
Drinking: From Budget Backpacker to High-End Traveler
With people from all over the world filling the streets dancing, drinking, eating, and looking for a thrill, the Siem Reap nightlife has a magnetic energy unlike anywhere else. Due to the city's small size and concentration of most nightlife options located centrally around Pub Street, you can hop around from bars to pubs to clubs, cocktail joints to rooftops, and KTVs to beergardens all within a night.
Start off the night right on a budget with pregame drinks at Angkor Famous Bar, located in The Passage, a small but bustling pedestrian alley just south of Pub Street – the perfect place for a pint of your favorite mixed drink for just $3 (and complimentary buttery popcorn, always!). After getting a few drinks in, head over to the legendary Pub Street for more drinks and dancing at UP2U, YOLO Bar, or the club you cannot miss, known for it's clever play-on-words, Angkor WHAT? Bar. The Angkor WHAT? Bar first opened its doors in 1998 to party seekers and dancers of Siem Reap, making it the first ever bar of the legendary Pub Street!
A great place to enjoy billiards, foosball competitions, and beer pong tournaments with a good drink is X-Bar. This unique bar is home to the only half-pipe skating ramp in Siem Reap, and you can even rent skateboards to ride it after consuming a bit of liquid courage. A truly authentic night-out in Siem Reap is not complete without a midnight visit to Temple Bar – one of the best dance clubs in the entire city. You can find people here dancing their hearts to the trendiest new music on a strobe-light, foggy floor designed to look like the inside of an ancient temple.
For travelers with a bit more cash in their pocket and a taste for finer alcohol, Picasso Bar or Miss Wong are the places to go. These higher-end cocktail bars offer great drinks with an even better ambiance for a night of interesting, classy fun.
If you're feeling more adventurous and want to get a taste of the local scene, a trip over to Khmer Pub Street and Road 60 (Kyung Yu Fun Fair) will give you the experience of a true Cambodian night out on the town – complete with cans of beer poured in ice cups to grooving out while listening to traditional Cambodian jams.
Karaoke: A Southeast Asia Staple
Leaving Southeast Asia without experiencing the excitement and pure joy found in a night of belting your heart out at a karaoke joint would truly be a sin. Karaoke bars, known as "KTVs" in Cambodia, are abundant throughout the city of Siem Reap. You can't miss these joints, marked with large neon letters "KTV", speckled down the roads.
For a more low-key (and tame) karaoke experience with a group of close family and friends, High Zone Family Karaoke, located right by the Central Market, is the best place to be to practice hitting those high keys.
Entertainment in the Night
Entertainment is not hard to find in the Kingdom of Wonder. A pub crawl around Siem Reap at night will present countless food truck fried insects to stomach, displays of traditional flutes and drums music from locals, beautiful Apsara dance performances, and lots of shopping. Getting lost in the major night market in the city, the Angkor Night Market, is an adventure of souvenir hunting, bargaining, and trying different delicious cheap eats from vendors.
For more of a creatively stimulating night experience, book a ticket to Phare: The Cambodian Circus. Phare is a social enterprise circus which was founded by a group of Khmer men shortly after their liberation following the fall of the Khmer Rouge. These men took solace in art as a powerful tool for healing. Today, the circus supports the education of nearly 1,200 students at a public school and over 500 students at a vocational arts training center. The circus act tells the stories of a country still recovering in optimistic hope from a war-torn past, and is the perfect place to enjoy an evening while learning a bit about Cambodian culture and history.