Buddhism is a very visible part of daily life in Cambodia, especially in Siem Reap where there are many pagodas in close proximity. If you want to understand more about Buddhism and Buddhist monks, then here are some pagodas you may wish to visit.
Visiting a monastery is an incredible experience, especially if you're lucky enough to meet some of the monks. Buddhist monks are very welcoming and open-minded, often willing to tell visitors the story of their lives and show them around the pagoda. Younger monks may even want to practice their English with visitors- so don't be shy! Chanting ceremonies and other religious happenings may also take place if you visit during that time.
Etiquette
Visiting a pagoda whilst in Cambodia can be a very spiritually and culturally uplifting activity. However, do remember that these are functioning pagodas and the tasks and obligations of the monks are of the utmost importance. Be respectful by wearing modest clothing, make sure you're covered from shoulders to knees – no tank tops, cleavage or hot pants!
When visiting a pagoda or other buildings in the area, it's important to remember to take your shoes off. You'll know that you doing the right thing when you see other shoes placed at the bottom of the steps. Keep this in mind during your stay for a more enjoyable and comfortable experience!
Be sure not to point your feet at monks if you join a ceremony, such as a water blessing, or receiving a blessing bracelet, make sure to sit with your knees folded under you to avoid pointing your feet toward the monk. Crossed legs are also unacceptable in this situation.
Don't point with your fingers. You will often see Cambodians point at things with either their whole hand or their lips, don't point with a single finger, it's considered extremely rude.
Ladies, don't touch the monks! Part of the monks' vow is not to touch women. They will provide a tray for offerings if you're having a blessing. An inadvertent touch such as when they tie a blessing bracelet around your wrist is fine. This doesn't mean that men can give the monks a hug! It is impolite to touch excessively, try to use the sampeh (pressing your hands together in a prayer form), and place your hands close to your face. The older the monk, the higher up your should hold your hands.
Important Pagodas in Siem Reap
Below, you'll find an overview of the most interesting pagodas in Siem Reap. This list is by no means extensive, however it hopefully gives a small insight into the importance of Buddhism in the daily lives of Cambodians.
Wat Damnak Pagoda
Wat Damnak is the biggest pagoda in Siem Reap. Wat Damnak means palace, which it also was during the reign of King Sisowath (1904 – 1927). Many Buddhist Monks live in this pagoda. It is a well-known landmark on the eastern side of the Siem Reap River, close to the roundabout and behind the riverside night market. Wat Damnak is a cultural hub, hosting a primary public school, Life and Hope Association, the Centre for Khmer Studies, which has an excellent resource library and it's also home to the annual Giant Puppet Project, which occurs during January/February each year.
Visiting a Buddhist pagoda is an inspiring experience. The grounds are beautiful and provide a serene atmosphere for contemplation. If you approach the monks respectfully, they will usually be happy to explain Buddhist beliefs and traditions. They can also tell you more about their living conditions and help provide insight into the intricate rules that accompany Buddhist practices.
Wat Bo Pagoda
Wat Bo Pagoda was built in the 18th century and is therefore one of the oldest pagodas in Siem Reap town. The wall paintings in the temple are intricate and engaging because they present religious scenes and those of the daily life in Cambodia. However, over the course of time, the wall paintings have faded and not all are clearly visible.
There is a school on site at the pagoda, so in the morning and afternoon you see the children running out of the school when the bell rings. Wat Bo has also it's own radio station and Buddhist high school where the monks can complete their education. Outside of the school flurry, the grounds of Wat Bo are serene and beautiful to spend a short break.
Wat Preah Prom Rath Pagoda
Wat Preah Prom Rath is one of most beautiful pagodas in Siem Reap. It is located on the river side near the Old Market (Psar Chas). The monastery has many fine, colorful wall paintings and you will find many modern statues inside. Often, you will see monks in the early morning or late afternoon. They follow Buddhist courses and English classes in this pagoda.
It's unclear exactly when the pagoda was built, however, its claim to fame is the large reclining Buddha that was installed in the main temple (Preah Vihear) in 1500. There is a quaint fable about why the Buddha is there, so if you want to find out how a boat turns into a Buddha, go and take a look. In 1915 the main temple and monastery were extended, to include an academic building (University) and a library. Expansion continued until 1945.
Wat Thmei Pagoda
Wat Thmei is along one of the roads leading from Siem Reap to Angkor Wat, it's renowned as Siem Reap's Killing Fields from the Pol Pot era in Cambodia. This pagoda is worth visiting if you're interested in war history and won't make it to the popular Choeung Ek Killing Fields site near Phnom Penh. It may seem morbid to visit such sights, but it's also important that we remember history and appreciate the profound impact this particular period has on Cambodian people.
The thing that sets this pagoda apart from a typical pagoda in Cambodia is the glass sided monument filled with the bones of deceased Cambodians found by locals living in the area after the end of the Khmer Rouge genocide. There are a few photo boards, but to get a deeper understanding you may find it worth having a guide.
This memorial is modest compared to the relics you can see in Phnom Penh at Tuol Sleng (S21) Prison and Choeung Ek, however it is still an important memorial for local people in this area.
Wat Athvea Pagoda
Wat Athvea is located 6kms from Siem Reap town, down the river in the direction of Tonle Sap Lake. It is listed here as a good place to go for a water blessing or receive blessing bracelets from the monks. Whilst the monks at this pagoda don't speak a lot of English, they are very welcome to having foreign visitors to receive blessings. Equally, it's easy to arrive without prior arrangement and just wait your turn.
The wat itself is a 12th century Hindu temple, built in the same period as Angkor. The area where you go for blessings is the more recently built and modern pagoda that resides on the same grounds. If you venture to look at the wat, don't be surprised if you're asked to present an Angkor pass.
Wat Kesararam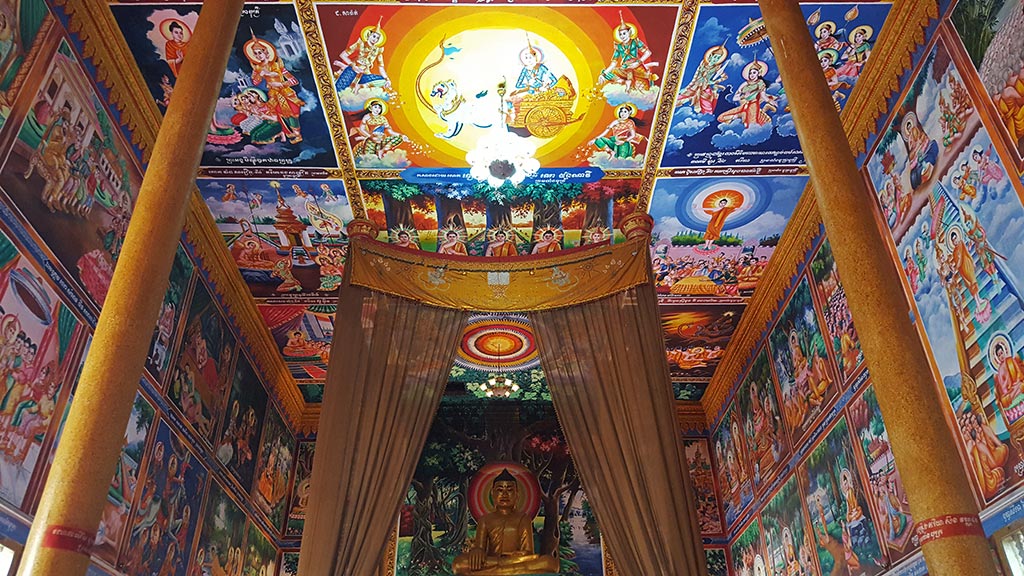 Wat Kesararam is located in central Siem Reap, if you turn left onto Road 6 from Sivatha Boulevard going toward the airport, you can't miss it, adjacent to the 5-star Sokha Angkor Resort. This pagoda is extremely beautiful to behold. The gates surrounding and the wat clearly visible on the skyline are pretty pictures amongst the traffic of the area. The entire grounds are paved, which makes it seem pristine and tidy. The crowning glory of this pagoda is the murals and paintings within, so step out of the chaos and into the calm of Wat Kesararam to enjoy these incredibly preserved and stunning ceiling and wall murals. Murals painted on the outside are more subdued and, like the colourful images within, depict stories of the life of Buddha.
Wat Kesararam is also worth visiting for historical reasons as it served as a security office, prison and even killing field during the Khmer Rouge reign. To the right of the main temple, or preah vihear, is an area with stupas and a memorial to those who died during Pol Pot's regime.
Important Shrines in Siem Reap
Siem Reap is also home to two important shrines, both located in the centre of town. Locals often visit these places of worship to pray for good luck and prosperity.
Shrine to Preah Ang Chek & Preah Ang Chorm
At the lively little pagoda near the royal residence is a highly revered shrine to Preah Ang Chek and Preah Ang Chorm, the protectors of Siem Reap. It is believed that these two statues have magical powers and are guardians of the local people. It's also believed that they were originally installed in Angkor Wat and they've had many homes since. Now they reside close to the royal gardens of Siem Reap where Preah Ang Chek and Preah Ang Chorm can oversee the city and be visited by the people.
Shrine to Ya Tep
Travelling along Road 6 from the River Road to Sivatha Boulevard, you'll pass the Ya Tep Shrine, where the road divides and the shrine creates something of a roundabout for traffic. As you drive past, you'll see a few people coming and going from the shrine, placing flowers and the waft of incense will fill your senses. The statue of Ya Tep is said to hold the powerful spirit of Neak Ta, which people pray to for protection and good luck, especially those playing the lottery. It's location is very close to the Shrine to Preah Ang Chek and Preah Ang Chorm.