Siem Reap offers a variety of venues to experience the centuries-old traditional Khmer Apsara dance, which holds significant cultural importance in Cambodia. Typically, Apsara dance performances in Siem Reap are presented as a combined package that includes a (buffet) dinner and a mesmerizing dance spectacle.
The Apsara dance is a captivating art form that tells stories about daily life and historical events in Cambodia. Originating from the 18th to 20th centuries, the dance flourished during the Angkor period, thanks to the patronage of many royal figures. Apsara dance performances often showcase graceful movements and intricate hand gestures, accompanied by traditional Khmer music and elaborate costumes. Through the centuries, Apsara dance has become an integral part of Cambodian culture, preserving the country's rich history and heritage for generations to come.
Types of Apsara Dancing
The Apsara dance is a complex art form that encompasses a variety of styles and techniques. Traditionally, there are four main types of Apsara dance: classical dance, folk dance, shadow puppet theater and Lakhon Khol.
Classical Dance
The classical dance is the most well-known and formal type of Apsara dance, characterized by slow, graceful movements and intricate hand gestures. The dancers wear traditional Khmer clothing and have a graceful appearance. The classical dance usually presents a story of the ancient Angkor period.
Folk Dance
In contrast to the graceful and formal Classical Dance, the Folk Dance is known for its lively and energetic performance, showcasing faster and more dynamic movements that are sure to leave you spellbound. This exuberant style of Apsara dance is typically reserved for celebrations and holidays, where it depicts specific rituals and everyday scenes inspired by the natural beauty of Cambodia's countryside. Popular dances are the Good Harvest Dance and the Romantic Fishing Dance.
Shadow Puppet Theater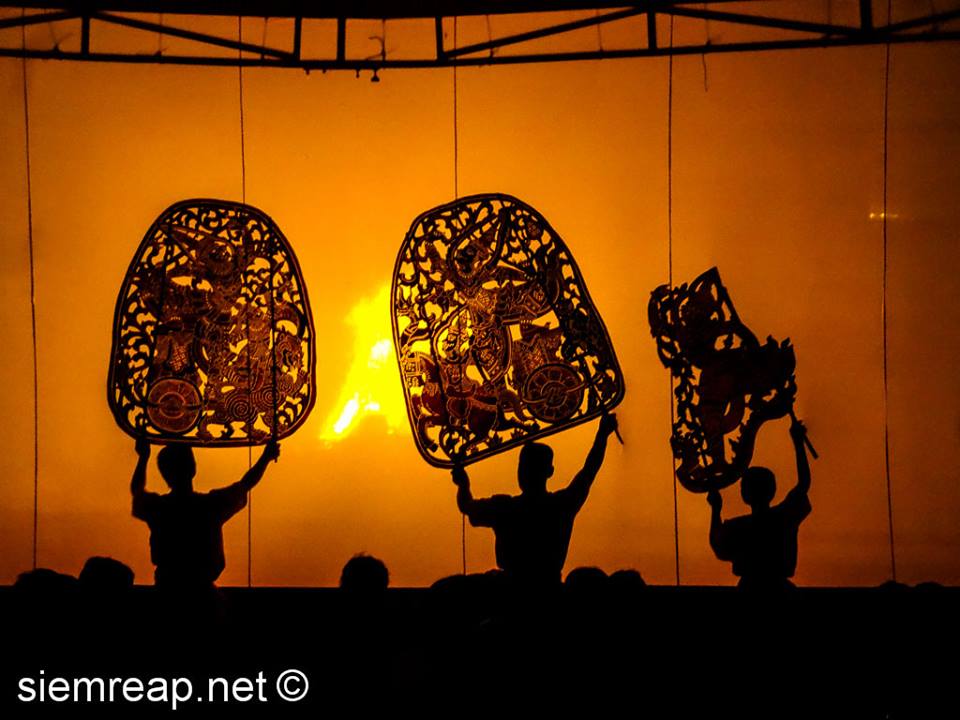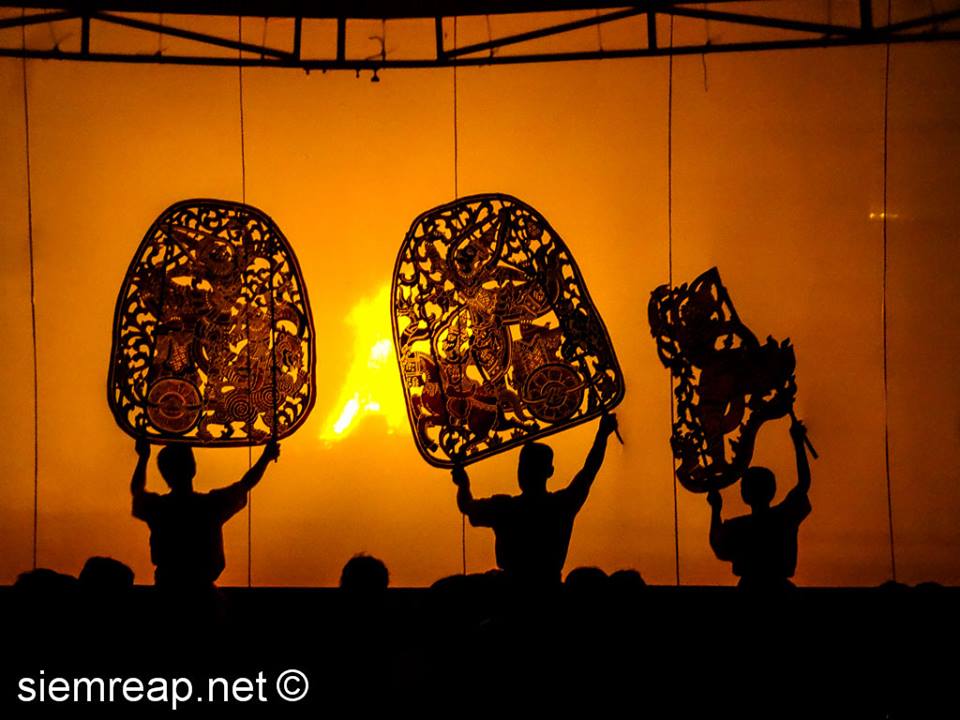 This traditional art form boasts two distinct types of performances. The Sbek Thom showcases tales from the Reamker, a beloved epic poem, while the Sbeik Touch brings to life the heroic tales of love and battle. Regardless of which performance you choose, you'll be treated to a visual spectacle that's both unique and captivating. Using the silhouette effect, the story is told through the manipulation of intricate puppets, which are moved behind a large white screen and illuminated by a light. As the shadows dance and flicker, you'll be drawn into the intricate and beautiful world of Cambodian storytelling.
Lakhon Khol
Lakhon Khol is a form of dance theater that portrays narratives from the Reamker. The performances often feature highly detailed masks, which can take months to create and are made from a variety of materials. The performers in Lakhon Khol are highly trained, spending years learning the intricate dance movements and techniques required for the art form. The stories depicted in Lakhon Khol usually involve battle scenes, and the performances can last for several hours.
Apsara Dance Performances in Siem Reap
There are several Siem Reap venues where you can attend an Apsara performance, depicting a few of the traditional Khmer dances. The show is usually combined with a set menu or buffet dinner. Some restaurants offer the show for free to their customers. Make a reservation if you want a seat close to the stage. Also make sure to call the venue of your choice to make sure there are no changes in the show's schedule.
| Venue | Days | Time | Phone |
| --- | --- | --- | --- |
| Apsara Theatre | Every day | 7:30pm-9:30pm | +855 63 963 561 |
| Koulen Restaurant | Every day | 7:30pm | +855 92 630 090 |
| Park Hyatt Siem Reap | Monday, Wednesday, Friday, Sunday | 7:00pm-8:00pm | +855 632 1234 |
| Raffles Grand Hotel d'Angkor | Wednesday, Friday, Sunday | 7:00pm-8:00pm | +855 63 963 888 |
| Temple Balcony | Every day | 7:30pm-9:30pm | +855 15 999 922 |
| Smile of Angkor | Every day | 7:30pm-8:45pm | +855 63 655 016 8 |