A Captivating Fusion of Craftsmanship, Nature, and Creativity
Senteurs d'Angkor, a local company based in Siem Reap, is a true gem that embodies the essence of Cambodian culture through its handmade products, commitment to local artisans, and sustainable practices. During my recent visit, I was enthralled by the Workshop tour, the breathtaking Botanical Garden, and the unique craft activities available for both children and adults. I share here my wonderful visit and highlight the options they offer for kids' activities.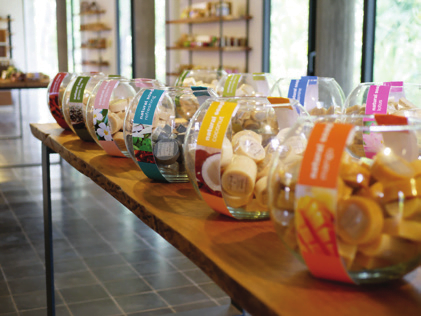 The Workshop: Celebrating Local Handicrafts Founded in 1999, Senteurs d'Angkor is deeply rooted in promoting and supporting local handicrafts. As I entered the Workshop, I was enveloped in a lush tropical garden, where artisans showcased their meticulous craftsmanship. Guided tours allowed me to explore the various stations, including spices, tea and coffee, delicatessen, soap, essential oils, incense, candles, natural cosmetics, and palm leaf boxes. Learning about the production processes and witnessing the artisans' work was an enlightening experience.
The Botanical Garden: A Serene Oasis Senteurs d'Angkor embarked on a remarkable project to transform their Workshop into a mesmerizing botanical garden. Their dedicated employees spent months collecting and planting over 100 different plant species, trees, and flowers, representing the rich flora of Cambodia. Exploring the Botanical Garden allowed me to admire the diverse plant life, gain insights into their cultural significance, and even sample some fragrant delights.
The Bees Presentation: A Buzzing Delight Since November 2021, Senteurs d'Angkor has proudly maintained its own beehives, contributing to the preservation of bees and sustainable honey production. Through extensive training with experienced apiarist M. Cheeang Chouk, the beekeeper, M. Sokhom, now tends to the bees and harvests honey with expertise. During the bees presentation, Sokhom passionately shared her knowledge, offering visitors an engaging and educational experience centered around these incredible pollinators.
The Shopping Experience: Authentic Treasures Await Located within the Workshop itself, Senteurs d'Angkor's flagship store provided a delightful finale to my visit. The extensive range of products available showcased their commitment to preserving Cambodian heritage. From spices, Kampot pepper, tea, and coffee to natural soaps, cosmetics, scented candles, incense, essential oils, and more, the store was a treasure trove of unique and authentic gifts. I found myself immersed in the vibrant scents and carefully crafted items, making it the perfect place to find souvenirs for loved ones or myself.
Craft Activities: Unleashing Creativity Senteurs d'Angkor offers an array of engaging craft activities that allow adults and kids to tap into their creativity and learn from local experts.

I had the opportunity to participate in smok making, where I weaved palm leaves into boxes used for packaging their products.
The candle making activity let me create aromatic candles inspired by Cambodia's scents, using high-quality materials such as paraffin wax, beeswax, and fragrances like jasmine, lotus, mango, and coconut.
Additionally, I joined the lip balm making session, where I crafted nourishing lip balms using natural ingredients under the guidance of their skilled natural cosmetics specialist.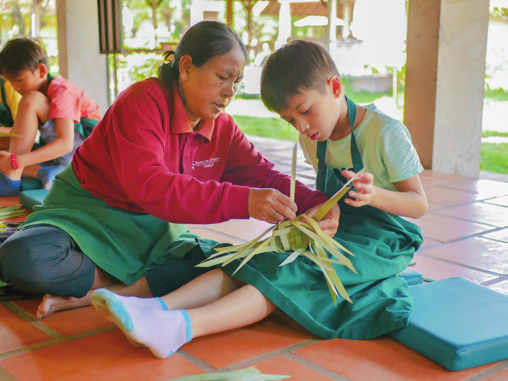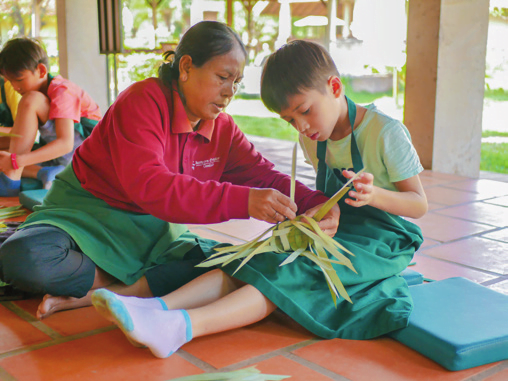 Senteurs d'Angkor is a true haven of artistry, nature, and creativity. With their Workshop tour, breathtaking Botanical Garden, mesmerizing bees presentation, and a shopping experience that celebrates authentic Cambodian products, every moment spent here was enchanting. The addition of craft activities, further enhances the overall experience, allowing visitors of all ages to immerse themselves in the local culture and bring home their own handcrafted souvenirs. Senteurs d'Angkor is a must-visit destination in Siem Reap, where tradition, sustainability, and creativity harmoniously coexist.
In addition to the Workshop visit, Senteurs d'Angkor has expanded its presence with two retail locations, one in Siem Reap and another in the vibrant city of Phnom Penh. The store in Siem Reap city center offers a convenient and immersive shopping experience for visitors exploring the city. Meanwhile, their shop in Phnom Penh provides an opportunity for residents and travelers in the capital city to discover and purchase their exquisite range of handmade and natural products. Whether you find yourself in Siem Reap or Phnom Penh, Senteurs d'Angkor's stores allow you to immerse yourself in the scents, flavors, and local heritage of Cambodia. You can bring home authentic and sustainable souvenirs that capture the essence of this remarkable country.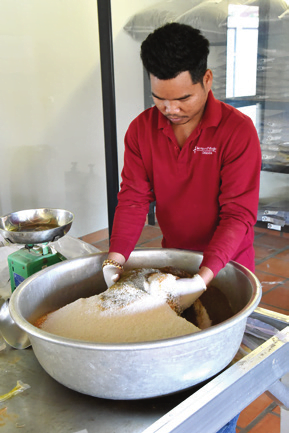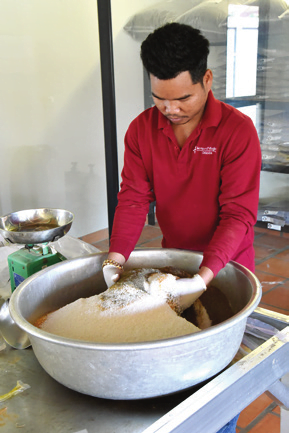 Contact Senteurs d'Angkor directly through the contact form below: