Look beyond the commonplace chains and ubiquitous fast food joints, and Siem Reap visitors can be treated to Khmer cuisine, both traditional and new. Our list of highly recommended eateries includes a variety of settings, from small family-run kitchens to sophisticated fine dining, each providing a flavorsome introduction to this country's food. Khmer cooking is proudly coming into its own as a credible rival for the ever-popular cuisines of neighboring Asian countries. Mix local flavors, such as pastes made from herbs and spices, with fresh, locally-grown ingredients and the result is a truly unique and aromatic surprise for the taste buds. Try Cambodian food at least once during your stay – you won't regret it. Here's our take on the best Khmer restaurants in Siem Reap.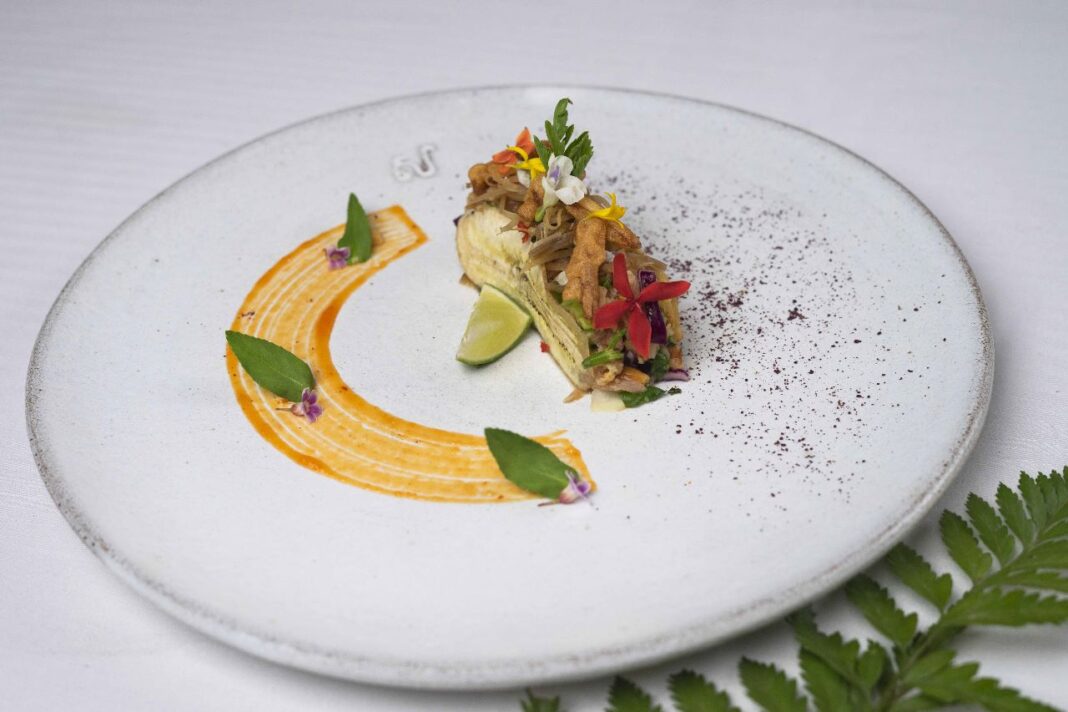 Embassy Restaurant
Sala Kamreuk Street, Siem Reap –
Google Maps
Wednesday to Monday from 6pm – 10pm
+855 89 282 911
Upper restaurant $$$$$
This upmarket dining experience, headed by Executive Chefs Pol offers Siem Reap diners a Khmer gastronomy menu. At Embassy Restaurant Guests can savor the unique monthly menu of a skillfully prepared, seasonal, seven-course gastronomy set menu. Pair it with an exclusive selection of wines and you have a night to remember! The main courses might include such delicacies as caramelized beef oxtail with Kulen honey, Mondulkiri espresso coffee sauce, bamboo shoot and coconut palm heart purée. Located in the heart of Siem Reap, the restaurant offers both outdoor terrace and indoor aircon seating with garden view.
---
Combining Cambodian flavours and indigenous ingredients with French techniques and artistry is the concept behind Cuisine Wat Damnak. The traditional wooden house setting allows customers to choose from three dining spaces – the relaxed tropical garden, modern air-conditioned dining room on the ground floor, or breezy, fan cooled upstairs in keeping with the house's rustic charm. The tasting menu changes every two weeks, reflecting the availability and variety of seasonal produce, fresh and locally sourced. Expect to find dishes featuring kuy fruits, water lily stems, edible flowers, fish and seafood from the Mekong and Tonle Sap. Vegan or vegetarian adaptations can be prepared on request.
Address: Between Psa Dey Hoy Market and Angkor High School
Opening Hours: Tuesday – Saturday 6.30 pm – 9.30 pm (last order)
Price: $$$$$
---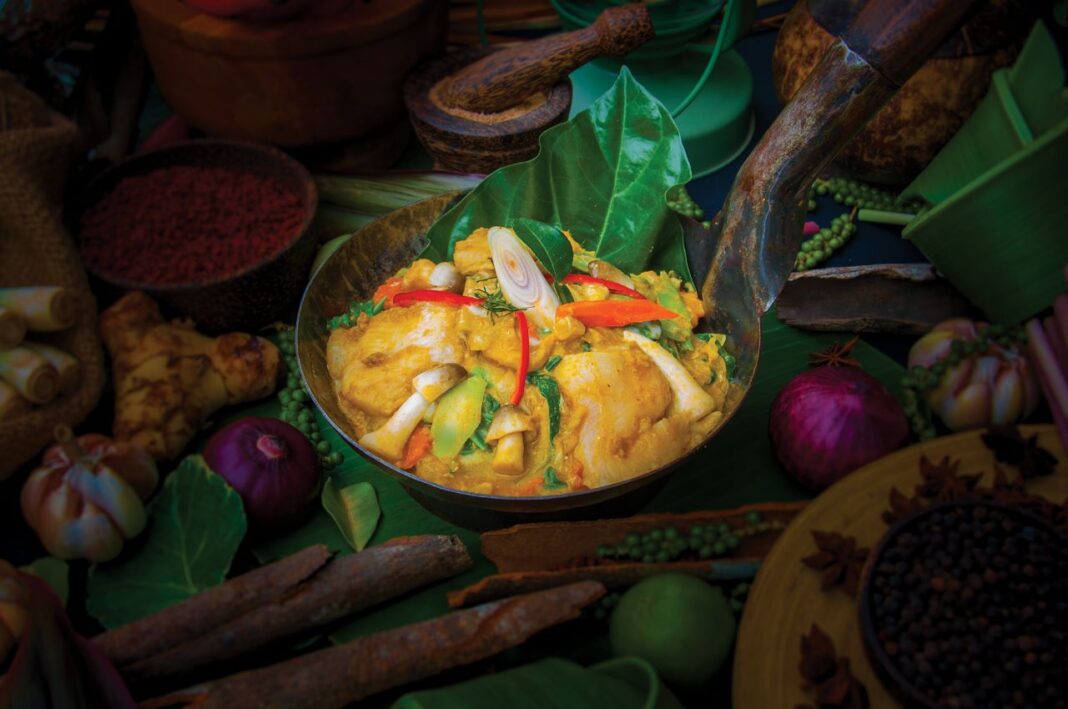 Café Indochine
Sala Kamreuk Street, Siem Reap –
Google Maps
Monday to Sunday – 11.30am till 2.30pm / 5pm till 10pm
+855 77 806 186
$$$ Traditional house and cuisine
This charming Cambodian wooden house is home to Café Indochine, where the traditional surroundings provide a contrasting calm to the buzzing Sivatha Street outside. Serving classic Khmer food, the centrally-located Cafe Indochine Restaurant was once the Angkor headquarters of UNESCO and the nostalgic theme continues in the forecourt and into the antique-laden dining rooms. Offering a la carte Khmer favourites and discovery menus for two people to share, the menu caters for all tastes. It also features a 'Steak House' offering tender locally-sourced beef fillet, served with a selection of sauces such as green pepper, blue cheese sauce or red wine.
---
Mahob being the Cambodian word for 'food', says it all. The menu redefines Khmer cuisine with Chef's Specials which include the mouthwatering braised river fish fillet in palm sugar with lotus root and tamarind leaves. Set in an authentically converted Wooden House. Overlooking lush gardens, guests can choose to sit indoors, or outdoors in the garden surrounded by trees, flowers and a lotus pond. Mahob Restaurant also offers cooking classes with a farm-to-table concept at its countryside organic farm venue. Private dinners and buffets can be catered for, too, with the team's customary hospitality.
Address: Traing Village, Siem Reap
Opening Hours: Monday – Sunday from 11:30am – 10:30pm
Price: $$
---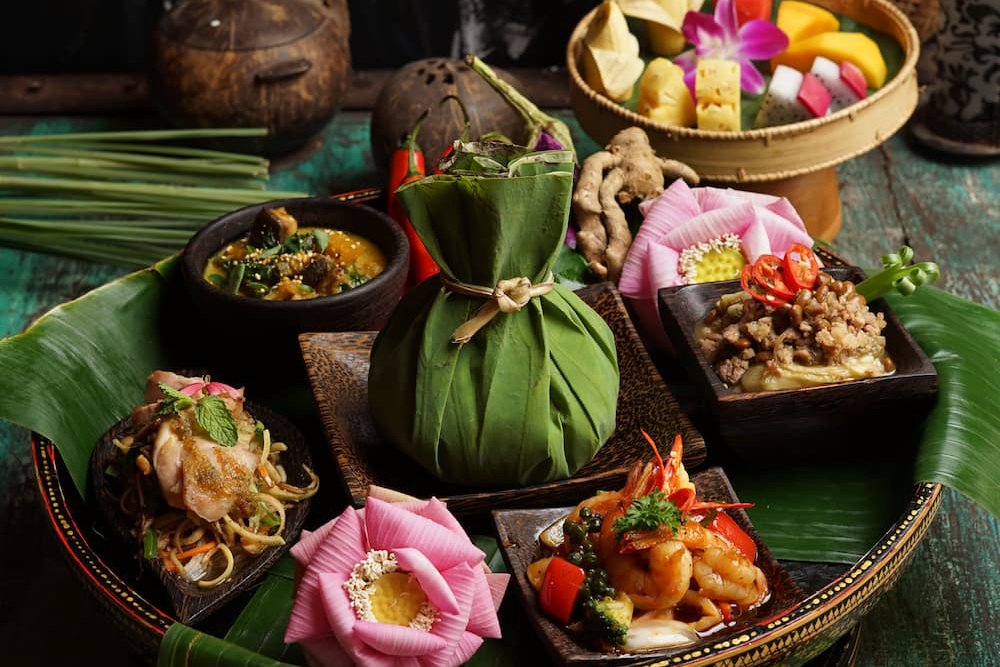 Butterfly Pea Restaurant
Sala Kamreuk Street, Siem Reap –
Google Maps
Monday to Sunday – 11.30am till 2.30pm / 6pm till 10pm
+855 77 806 186
$$$ Traditional house and cuisine
Dine inside this traditional Khmer home or sit outside admiring the stunning tropical gardens – a peaceful and relaxing environment. Start with fresh spring rolls with seafood or the green mango salad. Traditional Khmer rice noodle soup is also served along with Khmer sour soup. Vegetarian options include tofu and black seaweed soup, fried eggplant, or the heart of banana flower salad. For the main course, sample the popular Khmer crepe, mixed seafood with green pepper, fried fish in tamarind, or the Mekong river lobster amok. Butterfly Pea Restaurant also offers popular set menus featuring the kitchen team's selection. Desserts include banana flambees, creme brulee, and dark chocolate mousse.
---
Chanrey Tree – Khmer Cuisine
In a lush courtyard setting, you'll find Chanrey Tree, a traditional wooden house with a spacious al fresco dining area, serving authentic home-style cooking. The relaxed setting is the ideal place to savour dishes made from ingredients bought at local markets and presented in new and creative ways. Diners can choose from a varied menu, including beef lok lak, roasted Khmer chicken, and Tonle Sap steamed fish. Vegetarians can select, among other imaginative main courses, a green vegetable curry or a pomelo and spinach salad.Pair your meal with a wine from France, Australia, South Africa or Chile to complete your culinary adventure.
Address: Pokambor Avenue, Riverside
Opening Hours: Monday – Sunday from 11am – 2:30pm and from 6pm – 10:30pm
Price: $$$
---
Sugar Palm Restaurant in Siem Reap is a culinary gem that delights taste buds with its authentic Khmer cuisine. Located in the heart of the city, this charming eatery offers a cozy atmosphere and friendly service. The menu showcases a delectable selection of traditional Cambodian dishes, prepared with fresh local ingredients and bursting with vibrant flavors. From aromatic curries to mouthwatering stir-fries, Sugar Palm Restaurant delivers an unforgettable dining experience that captures the essence of Cambodian cuisine.
Address: Opposite Pannasastra University Street 27, Siem Reap City
Opening Hours: Monday – Sunday from 5:30am – 10pm
Price: $$$
---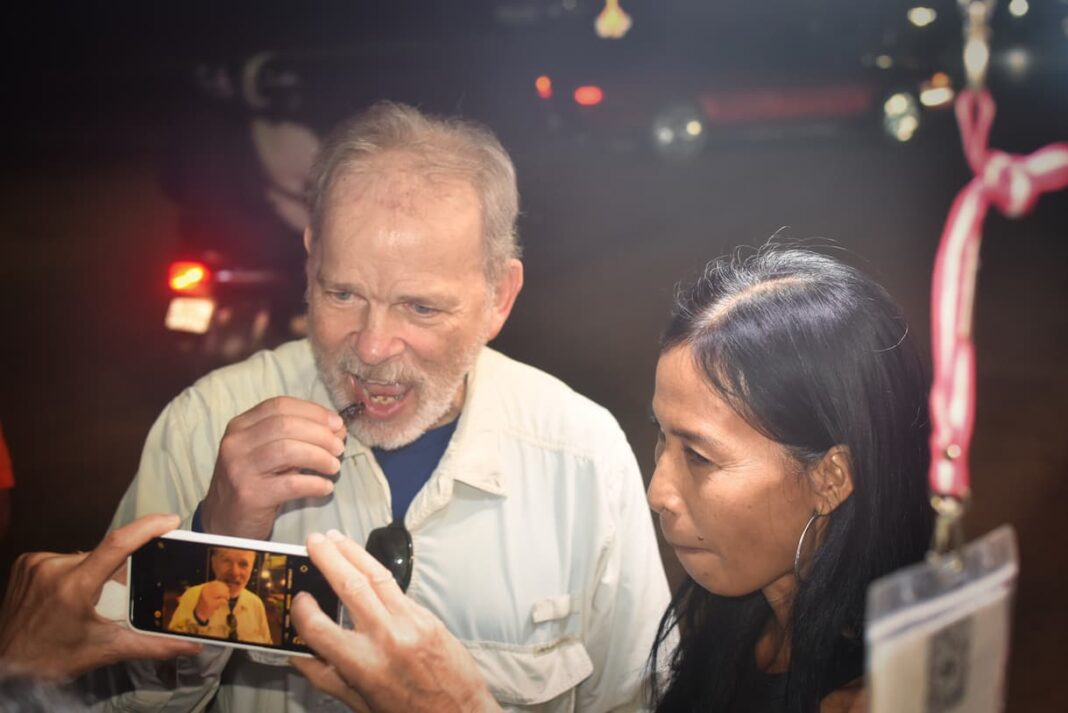 An adventurescambodia experience
Akim Vespa Tours
Pick up at your hotel
Monday to Sunday – 6pm till 10pm
$$$ Traditional cuisine / street food / Bar
Embark on an extraordinary culinary adventure with the Food Tour by Akim Vespa, where you'll have the luxury of your own private driver. Prepare to be captivated as you traverse the city's vibrant streets, uncovering hidden culinary treasures and indulging in a diverse range of mouthwatering flavors. Guided by Akim's expertise and infectious passion, this immersive journey will take you on a captivating exploration of local food culture, leaving you with cherished memories and a profound appreciation for the culinary arts. Get ready to savor every moment of this unforgettable epicurean experience.
Still looking for inspiration? Check our overview of the best international restaurants in Siem Reap!