Angkor Sankranta (also referred to as Angkor Sangkran) is a giant three-day festival celebrating Khmer New Year. From April 14 – 16, parades, concerts and exhibitions transform the Angkor Archaeological Park and downtown Siem Reap into a hub of colorful and vibrant cultural activities.
Organized by the Union of Youth Federations of Cambodia, the events are open to locals and foreigners alike. The festival aims to preserve art, culture, and traditions of the Khmer people. A temple pass is not required, unless you plan to combine your attendance with a visit to the temples.
This year marks the 10th anniversary of Angkor Sankranta. There is a blessing ceremony on April 13 at 7.42am in front of Angkor Wat to begin the festival's program of over 20 entertainment events, which are all free of charge.
Each year, there is a Guinness world record attempt. In fact, this year there will be two attempts! On April 11 at 4pm, the aim is to show the largest display of paper hearts in front of Angkor Wat temple, while on April 15 at 8am, there will be an attempt for the largest Madison dance in Angkor Thom.
In addition, visitors can enjoy traditional dances, floating lanterns, archery, traditional Khmer games, Bokator martial arts displays, classical theatre performances and a Cambodian produce trade fair.
Try to arrive early to experience all of the fun and games Angkor Sankranta has to offer, before traffic and crowds accumulate. Be prepared for delays on the roads during the week as people travel to and from Siem Reap for the festive period. Cycling is often the best option for avoiding traffic congestion and competition for limited parking spaces. However you choose to get there, it's an unmissable event that Cambodians look forward to each year. Joining in is a must!
Angkor Sankranta Map & Timetable
Below is an overview of all events taking place during this year's Angkor Sankranta festival. You can find all events marked on the map below. Click on the map to download a high-resolution version to your phone and use it to plan your visit to the festival perfectly. Don't miss out on any of the fun!
Daily Program at Angkor Archaeological Park
April 14 – 16 2023, 8am – 9pm:
Khmer Product Exhibition
Sankranta Exhibition
Classical, Traditional and Folk Dances
Kid's Zone
Folk Games
Khmer Chess (Ouk Chaktrang) Tournament
Kun Lbokator
Classical, Traditional and Folk Dances
Official Merchandise Store
Food Village of Love
Angkor Smile Garden
Master Artist
Happy New Year Concert
Wet Zone
Cultural Heritage Village
SEA Games and ASEAN Para Games 2023 Village
Large Objects Exhibition
My Village
Official Merchandise Store
Large Ansorm Symbol
Suon Moni Haratey
Religious Ceremonies and Spectacles at Angkor Archaeological Park
April 11:
1. 4:00 pm – Guinness World Records Official Attempt: The Largest Display of Paper Hearts
April 13:
2. 7:42am – Blessing Ceremony (Buong Suong)
3. 6:12am – Meditation in Angkor
April 14:
4. 8:00am – Opening Ceremony of Angkor Sankranta 2023
5. 10:30am – Angkor Sankranta Friendship Tug-of-War (Teanh Proat)
6. 03:00pm – Reception of New Year Tevada
7. 6:00pm – Floating Lantern Ceremony
8. 7:00pm – Ramayana Performing Arts
April 15:
9. 8:00am – Guinness World Records Official Attempt: The Largest Madison Dance
10. 9:00am – Visiting Pagoda and Sand Mounding Ceremony
11. 4:00om – Angkor Sankranta Parade
12. 5:10pm – Kun Lbokator: Traditional Martial Arts Performance
13. 5:20pm – "This is not a Dream" Event
14. 7:30pm – Khmer Classical Art Theatre
April 16:
15. 8:00am – Angkor Sankranta Chess Tournament (Final)
16. 10:00am – Wet Zone Highlight
17. 11:00am – Awarding Ceremony: "Selfie of Angkor Sankranta" Photo Contest
18. 1:12pm – Bathing of Buddha Statue Ceremony (Srang Preah)
19. 6:30pm – Angkor Sankranta Concert
Sankranta Events in Other Areas
April 14 – 16 2023, 8am – 9pm:
At the Siem Reap River: Floating market, Boat Ride, Exhibition, Floating Concert
At the Royal Independence Garden: Trade Fair, Concerts
At Road 60 / Angkor Kyung Yu: Oxcart / Buffalo Cart Racing (Final on April 16, 3:30pm), Khmer Traditional Archery
At King's Road and Pub Street: Concerts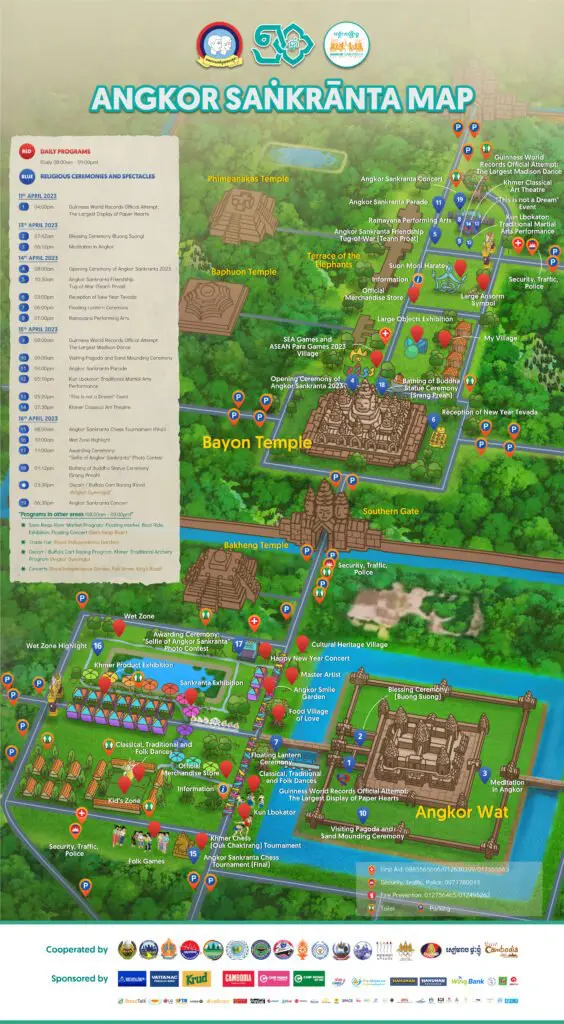 Want to know more? Discover the fascinating traditions and origins of Khmer New Year with this comprehensive guide.