Angkor Sankranta is a giant four-day festival celebrating Khmer New Year. From April 13 – 16, parades, concerts and exhibitions transform the Angkor Archaeological Park into a hub of colourful and vibrant cultural activities.
Organised by the Union of Youth Federations of Cambodia, the events are open to locals and foreigners alike. The festival aims to preserve art, culture, and traditions of the Khmer people. A temple pass is not required, unless you plan to combine your attendance with a visit to the temples.
This year marks the 6th edition of Angkor Sankranta. There is a blessing ceremony on April 12 at 7.45am in front of Angkor Wat to begin the festival's programme of over 30 entertainment events. Festivities, which are all free of charge, are officially opened by Prime Minister Hun Sen and his wife Bun Rany at a special ceremony on April 13.
There will be a traditional culture programme, art shows and events hosted by other Cambodian provinces such as Koh Kong, Kampong Thom, Kampong Speu, Prey Veng, Banteay Meanchey, Svay Rieng and Pursat. Each year, there is a Guinness world record attempt. This year, the aim is to display the longest ever Cambodian scarf, or krama, by GoGo Cambodia, an organisation promoting national pride, as well as hanging a giant Hanuman mask, part of a traditional Cambodian dance.
In addition, visitors can enjoy traditional dances, floating lanterns, archery, traditional Khmer games, bokator martial arts displays, classical theatre performances and a Cambodian produce trade fair.
People from all over Cambodia converge on Siem Reap and organisers are expecting an increase of numbers from last years 1.6 million attendants, which reportedly provided an economic income to Siem Reap of $95 million.
Try to arrive early to experience all of the fun and games Angkor Sankranta has to offer, before traffic and crowds accumulate. Be prepared for delays on the roads during the week as people travel to and from Siem Reap for the festive period. Cycling is often the best option for avoiding traffic congestion and competition for limited parking spaces. However you choose to get there, it's an unmissable event that Cambodians look forward to each year. Joining in is a must!
Angkor Sankranta Map & Timetable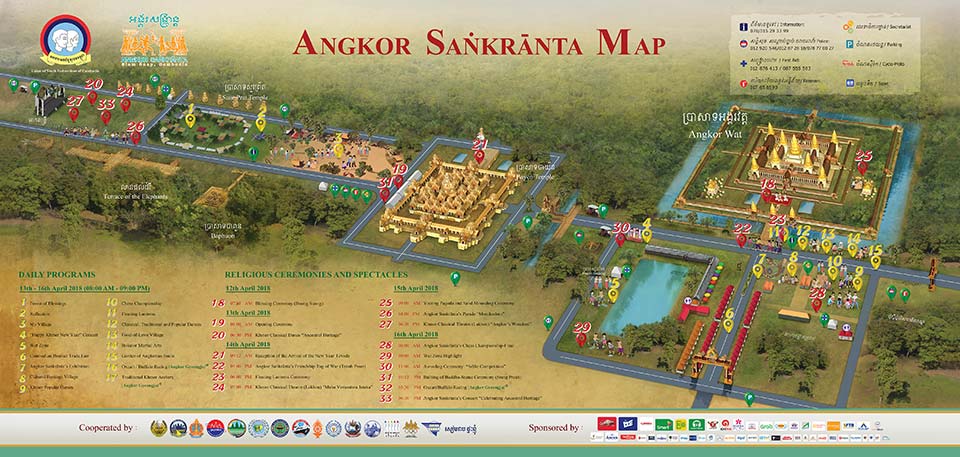 Daily Programs
13th – 16th April 2018, 8am – 9pm:
Forrest of Blessings
Reflection
My Village
"Happy Khmer New Year" Concert
Wet Zone
Cambodian Product trade Fair
Angkor Sankranta Exhibition
Cultural Heritage Village
Khmer Popular Games
Chess Championship
Floating Lanterns
Classical, Traditional & Popular Games
Food-of-Love Village
Bokator Martial Arts
Garden of Angkorian Smile
Oxcart/Buffalo Racing at Road 60 / Angkor Kyung Yu
Traditional Khmer Archery at Road 60 / Angkor Kyung Yu
Religious Ceremonies and Spectacles
12th of April:
7:45 am – Blessing Ceremony (Boung Soung)
13th of April:
8:00 am – Opening Ceremony
6:30 pm – Khmer Classical Dance "Ancestral Heritage"
14th of April:
9:12 am – Reception of the Arrival of the New Year Tevada
5:00 pm – Angkor Sankranta Friendship Tug of War (Teanh Proat)
6:00 pm – Floating Lanterns Ceremony
7:00 pm – Khmer Classical Theater (Lakhon) "Maha Vessantara Jakata"
15th of April:
9:00 am – Visiting Pagoda and Sand Mounding Ceremony
4:00 pm – Angkor Sankranta Parade "Monikodom"
6:30 pm – Khmer Classical Theater (Lakhon) "Angkor's Wonders"
16th of April:
8:00 am – Angkor Sankranta Chess Championship Final
10:00 am – Wet Zone Highlight
11:00 am – Awarding Ceremony: "Selfie Competition"
1:12 pm – Bathing of Buddha Statue Ceremony (Srang Preah)
3:30 pm – Oxcart/Buffalo Racing at Road 60 / Angkor Kyung Yu
6:30 pm – Angkor Sankranta Concert "Celebrating Ancestral Heritage"
Khmer New Year Offers
Visiting Siem Reap during Khmer New Year? Then make your stay even more special with one of the following exclusive offers:
Raffles Grand Hotel d'Angkor
Raffles Grand Hotel d'Angkor pampers Siem Reap visitors and residents with two Khmer New Year specials:
Khmer New Year Poolside – Let your hair down and join Raffles Grand Hotel d'Angkor poolside! Enjoy free-flow of wine & beer at Cambodia's most iconic pool from 13th – 16th April, 3.00pm – 6.00pm. Rate: US $20++ / person. Bookings: dining.grandhotel@raffles.com or +855 63 963 888.
Khmer New Year Package – Welcome in the Khmer New Year with total body wellness at Raffles Spa. Enjoy a 20% discount on Spa Membership and receive an additional 30 minutes on your 60 minute Khmer New Year Treatment: Khmer Herbal Scrub, Khmer Herbal Wrap or Khmer Massage. Offer available from 1st – 30th April, 9.00am – 9.00pm. Rate: $145++ per 110 minutes package. Bookings: spa.siemreap@raffles.com or +855 63 963 888.
Sofitel Angkor Phokeethra Golf & Spa Resort
Sofitel Angkor offers guests a free upgrade to a Luxury Room and many other benefits from 13 April to 16 April: Daily breakfast for 2, SoSpa – 20% off, F&B – 10% off, late check-out Until 4pm and local gift. Rate: US $295 NET / night. Reservations: H3123-re@sofitel.com.
The Aviary Hotel
At The Aviary Hotel, you can book a stay for only USD 79 ++ per night including welcome drink upon arrival, buffet breakfast and a set dinner for two. Reservations: reservation@theaviaryhotel.com or +855 12 241 607.