For the first time in Cambodia, Park Hyatt Siem Reap is offering a unique and innovative 'fun' fine dining experience based around the exploits of Le Petit Chef – The World's Smallest Chef.
This new and immersive culinary journey offers an exclusive dinner theatre where a 3D cinematic show is presented on each of the diner's dining plates. Between meals, the table is unobtrusively transformed into a screen, whereupon the little chef entertains with various performances and recordings, because his attempts to prepare culinary masterpieces almost always end in disaster. This is when the culinary team at Park Hyatt Siem Reap comes to the rescue and helps out the virtual star! When the food is served on the table, the theatrical show moves into the background and the curtain goes up to present the amazing international Khmer-infused menu.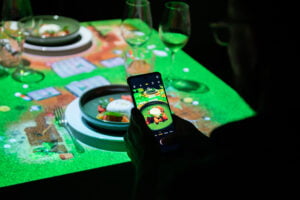 This unique concept is unlike any other dining event, where the story is created around the food, offering a fun and interactive way to dine. The focus is on the gourmet cuisine, with the hotel's chefs including Executive Chef Pisit Theam's story-telling aspect accentuating each dish before every course, while also keeping diners entertained and enchanted throughout the evening.
The menu is orchestrated by Chef Pisith and his talented culinary team, and offers a careful selection of 5-course menus passionately prepared with locally sourced sustainable Provencal ingredients, and touches of Khmer influence incorporating the elements of Le Petit Chef's culinary adventure. Wine pairing options are also available in partnership with The Warehouse.
Behind the elaborate animations lies the Belgian artist collective "Skullmapping", founded in 2010 by Filip Sterckx and Antoon Verbeeck. Using 3D mapping technology and a profound artistic know-how, the 58 mm small chef was brought to life in 2015; and is now a global gastronomical phenomena.
Event Details
Le Petit Chef – The Beginning, will be showcased at the Park Hyatt Siem Reap until 18 August 2023 every Friday, Saturday and Sunday from 7pm – 9pm. Add-on extras such as flower bouquets and cakes, and special requests are also available for those wishing to celebrate special occasions. The hotel is also offering exclusive buy-outs for special groups and corporate packages for bookings on events days or weekdays, and interested parties can call the hotel directly for proposals.
There are 7 different 5-course set dinner menus starting from US$75++ per person, with options for wine pairing, including vegetarian and junior sets for children aged 6 – 11 years.
For more information or bookings, please visit https://lepetitchef.com/siemreap or the hotel directly at https://www.experienceparkhyattsiemreap.com/le-petit-chef/.

Telephone: +855 6321 1234
Email: [email protected]