If you're planning a trip to Siem Reap, you'll want to know how to safely exchange your money to make the most of your time in this vibrant city.
Cambodia uses two currencies: Cambodian Riel (KHR) and US Dollar (USD). The Cambodian Riel is the official currency, while the US dollar is widely accepted, especially in tourist areas. In this article, we'll provide you with tips for safely exchanging money in Siem Reap, as well as a list of trusted currency exchange services to ensure you get the best possible exchange rates.
Riel or US Dollar?
It's worth noting that Cambodia is gradually moving away from the US dollar and towards the riel. This shift is starting with smaller notes, such as the 1 USD and 5 USD bills. This means that it's becoming more important to have a supply of Cambodian riel on hand, especially for smaller purchases and transactions.
However, if you're worried about getting Cambodian riel before you arrive in the country, don't be. You can pay in US Dollars anywhere at the airport, including the taxi stand; And even the visa you receive upon arrival must be paid for in US Dollars.
Torn and Damaged US Dollar Bills
It is important to make sure that any US dollars you bring to Cambodia are in good condition, without tears or damage. This is because Cambodians consider torn or damaged US dollar bills to be unusable, and they will not accept it.
Additionally, when exchanging money or paying for goods and services, be sure to carefully inspect the US Dollar bills you receive and refuse any that are torn or damaged. Many businesses in Siem Reap will not accept damaged bills, and you may have difficulty exchanging them at currency exchange booths or banks. Therefore, it's always recommended to check the condition of bills before accepting them and request a replacement if necessary. However, it's worth noting that torn or damaged Cambodian Riel bills are generally not a problem.
ATMs
ATMs are widely available in Siem Reap, and most accept foreign cards. However, some ATMs may charge high withdrawal fees or have lower withdrawal limits. Make sure to notify your bank before traveling to ensure your card will work in Cambodia. One of the most reputable and popular banks in Cambodia is ABA (Advanced Bank of Asia Ltd.), which has a significant presence in Siem Reap. Most ATMs in Siem Reap are operated by ABA and are conveniently located across town.
Credit Cards
Major credit cards (Visa, Mastercard, UnionPay) are accepted in more and more places in Siem Reap, especially in upscale restaurants, hotels, spas and shops. However, smaller businesses may not accept credit cards, so it's always a good idea to carry cash as a backup.
Digital Payments
Digital payments are becoming increasingly popular in Cambodia, and ABA Bank is leading the way with their digital payment app. The app allows for payments by QR code in almost all shops, restaurants, and other businesses in Siem Reap. This technology has made transactions more convenient and streamlined for locals and expats who have a local ABA bank account. However, for tourists who do not have a Cambodian bank account, digital payments may not be a practical option.
In addition to digital payment apps like ABA Bank, some shops in Siem Reap also accept Alipay, which is the Chinese equivalent of PayPal, and PiPay, a local payment app. These options are especially useful for Chinese tourists who may already be familiar with Alipay, as well as for expats who use PiPay regularly.
Exchange Rates
It's important to compare exchange rates before exchanging money. You can check current exchange rates on the official website of the National Bank of Cambodia or use a currency converter app. Avoid exchanging money at places that offer rates significantly lower than the official exchange rate.
When exchanging money, be aware of fees and commissions that may be added. Make sure to count the money you receive and verify the exchange rate before leaving the exchange booth. Additionally, be careful when exchanging money on the street, as scams are not uncommon.
Trusted Currency Exchange Services in Siem Reap
There are many places to exchange money in Siem Reap, including banks, exchange booths, and hotels. To ensure that you get the best value for your money, we recommend visiting the reputable exchange services listed below: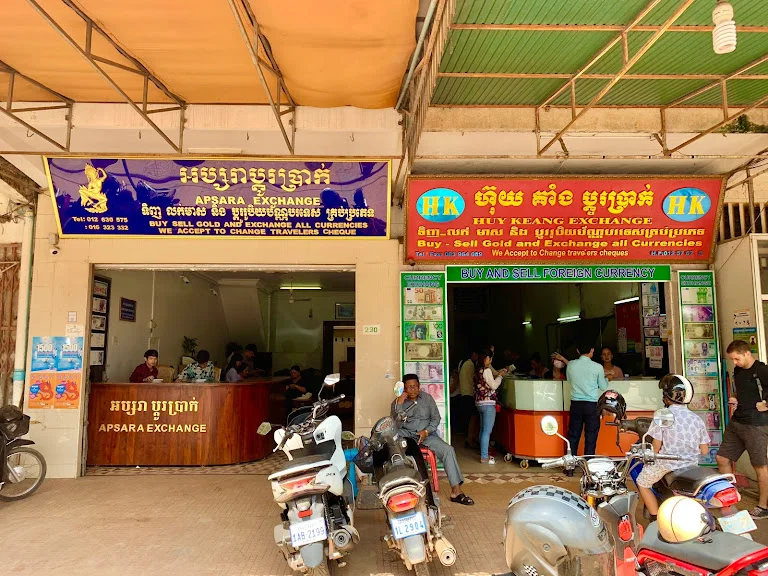 Huy Keang Currency Exchange: Conveniently located near Pub Street (opposite the new Zando Fashion Store), they usually offer the best exchange rate in town. A second branch of Huy Keang is located further down Sivutha Boulevard, opposite Maybank.
Apsara Exchange: Located just to the left of Huy Keang Exchange. While Huy Keang often offers better exchange rates, it's always a good idea to compare rates between the two exchange booths, as they are located right next to each other. This way, you can ensure that you're getting the best possible deal.
Hak Chuong Currency Exchange: Also located on Sivutha Boulevard, about 100 meters beyond the Park Hyatt Hotel when coming from the city center.
If you prefer to exchange money at a bank counter, we recommend visiting any ABA branch in Siem Reap. Currently, there are two locations in town, with three new branches under construction as of April 2023. While banks may not offer the best exchange rates, exchanging money at a bank counter can be a safe and convenient option. Just be sure to check the bank's fees and rates before exchanging, and compare them with other options in the area to ensure that you're getting the best possible deal.