Overland travel from Bangkok to Siem Reap is pretty straightforward. Read the following and you will feel confident to do the 465km long journey without running into any problems or scams. The whole trip takes between 7 and 12 hours, depending on your chosen mode of transport, traffic conditions and immigration queues at the Poipet border crossing.

Bangkok to Siem Reap: Travel Options
There are plenty of travel options available to make the overland trip from Bangkok to Siem Reap:
Note that only the first two travel options will bring you all the way from Bangkok to Siem Reap. The other ones will only bring you to the Thai border town Aranyaprathet (or Aran in short) from where you'll have to continue your trip to Siem Reap individually.
Tourist Bus or Mini Van Departing from Khaosan / Sukhumvit Road
Tickets can be purchased in most travel agencies in Bangkok and prices can vary dramatically, from 300 to 600 Baht on Khaosan Road, or as much as 1000 Baht at some travel agencies on Sukhumvit Road. Shop around and bargain a little to get a price you're happy with.
Expect to stop once or twice for snack and toilet breaks. However, if the driver stops right before reaching the Cambodian border at an official-looking building with a big sign saying "Consulate-General of the Kingdom of Cambodia", this is not the official visa office, so don't get your visa here. More details on the following page.
When you arrive at the border, cross the Thai immigration and apply for the Cambodian visa and afterwards cross the Cambodian immigration. If you are shown to a row of desks under a tarp before you go into the visa office, this is okay, usually the staff here will give you the visa form, explain about the photographs but should not ask for any money. From here enter the building and in 5-10 minutes you will have your visa. Don't be surprised if asked for an extra few dollars at this point. Once you are on the Cambodian side of the border, you will be put on a shuttle bus to the Poipet bus terminal, from where you continue your trip to Siem Reap.
Bangkok – Siem Reap Direct Bus Line
The Bangkok – Siem Reap direct bus line, organized by Transport Co. on the Thai side and Nattakan on the Cambodian side, offers three daily connections between Bangkok and Siem Reap.
The bus departs in the morning from the Mo Chit (Northern) bus station in Bangkok, located close to the famous Chatuchak weekend market. Departure times are 8am, 8.30am and 9am. Tickets can be purchased online by credit card or Paypal on CamboTicket (US$28). The whole trip takes about 7 to 8 hours. The bus is air-conditioned and there's a toilet on board. Snacks and lunch are served as well.
No need to take your luggage when arriving at the border, but make sure to take your valuables! At Thai immigration, you'll have the privilege to use the fast lane (which is a big benefit in the busy high season)! Once passed the immigration check, you can arrange your visa at the official Cambodian visa office. Continue walking to Cambodian passport control and get your visa stamped. Afterwards, the bus will pick you up again and continues the ride to Siem Reap, where you will be dropped off at the Nattakan Bus Station.
Mini Van Service Departing from Ekkamai Bus Terminal
Go to the Eastern Bus Terminal, better known as Ekkamai, for minivans to Aranyaprathet / Poipet.
The Victory Monument was a central point in Bangkok from where minivans departed, for decades, now the vans operate from the main bus terminals. There is a free shuttle bus from the Victory Monument and to go to Cambodia you need the eastern bus station. You want to go early to avoid queues when you arrive at the border. The trip should take 4 hours, depending on traffic and expect an extra half hour somewhere if the driver stops for a meal break. As soon as a van is filled up with travelers, it will depart. The price per person should be 230 Baht, but be aware that this only covers the trip from Bangkok to the Cambodian border. Once you've crossed the border and entered Cambodia, you will need to find ongoing transport to Siem Reap.
The good thing about this minivan service is that there's no visa scam. The van will drop you at walking distance from the border. From there continue your trip individually, though you may wish to arrange to share a taxi with other travellers. Details for transport to Siem Reap in the "Poipet to Siem Reap" section.
Casino Bus Service Departing from Lumpini Park
Poipet is the border town on the Cambodian side and has several casinos in a duty-free declared zone between the Thai and Cambodian immigration offices. Since casinos (and gambling in general) are not allowed in Thailand, hordes of Thai punters hit the road every day to spend their money in the casinos of Poipet. As such, there is a daily bus service departing from Lumpini Park in Bangkok organised by the casinos.
Departing from the south-eastern corner of Lumpini Park from 5am onwards for around 200 Baht. You don't need to book but it's a good idea to arrive early, especially on the weekend. Note that if you are Cambodian (or have a Cambodian companion travelling with you), you may be denied access to the bus or have to pay extra, because it is assumed you will be travelling on and not spending money at the casinos.
Similar to the minivans, there is no visa scam when using this service. More details on the next page.
Bangkok to Siem Reap by Private Taxi
Travel by taxi is the fastest and easiest way to travel from Bangkok to the Cambodian border, especially if you can share the cost with other travellers.
Finding a taxi in Bangkok is easy. Just wave a taxi down and negotiate a price. Depending on your negotiation skills, you should be able to agree on a price between 1800 and 2500 Baht for the trip from Bangkok to Aranyaprathet.
Note:
It's best to avoid taxis that are waiting in front of your hotel, especially if they are advertising trips to tourist destinations like Pattaya, Koh Chang and alike. Usually these taxis charge you 3500 Baht or more.
Never pay your taxi driver upfront. Pay him once you reached the border with Cambodia.
Make sure to have the exact amount with you in Thai Baht. It's an old trick of many taxi drivers to say that they don't have any change to give back to you.
After crossing the Thai – Cambodian border, you'll have to find additional transport to continue your trip to Siem Reap. This can either be a bus, minivan or taxi. Read the Poipet to Siem Reap section for more information.
Public Bus Service from Bangkok to Aranyaprathet
It's possible to travel from Bangkok to the Cambodian border by public bus. You can take the bus either at the Northern Bus Terminal (Mo Chit) or at the Eastern Bus Terminal (Ekkamai).
The Northern Bus Terminal is the best choice for buses to Aranyaprathet. Buses leave every half hour to hour from the ground floor of the terminal and you can choose between first class – 209 Baht and second class – approx. 160 Baht.
At the Eastern (Ekkamai) bus terminal, buses leave every 1 or 2 hours. The fee is 203 Baht for a seat on an air-conditioned bus.
The whole trip to the Aranyaprathet bus terminal takes around 5-6 hours. On arrival, there will be plenty of tuk tuks available to bring you to the border for around 100 Baht. Choose one of the drivers but be wary of a possible visa scam that he may try to pull before reaching the border.
Train Service from Bangkok to Aranyaprathet
Travelling by train is a slow option, but it is cheap and a very unique experience, if you're not in a rush. You can catch a train to Aranyaprathet from Bangkok's Hua Lamphong train station. There are other stations further along the line, but since Hua Lamphong is the train's departure point, hopping on here gives you the best guarantee for a good seat.
There are two trains a day to Aranyaprathet. The first one leaves Hua Lamphong station in the early morning at 5.55 o'clock and arrives in Aran at 11.35 lunch time. The second one leaves in the early afternoon at 13.05 o'clock and its arrival time is 17.35 in the evening. Unless you plan to spend the night in Aran, we recommend that you take the early morning train. Expect delays.
A one-way train ticket to Aranyaprathet is 48 Baht (or 1.5usd), which is an amazing bargain for a trip of 255kms!
On arrival at Aran's train station, there will be lots of tuk tuk drivers. Expect to pay 50-80 Baht for the short trip to the border. Be wary of a visa scam that your tuk tuk driver may try to pull along the way to the border. More details on the following page.
Crossing the Thai / Cambodian Border
Poipet, Cambodia's border town with Thailand, is only known for two reasons: its casinos and its notorious border crossing. In this section you'll find the information you need to make a successful border crossing.
Cambodian Visa Scam
Somewhere close to the border, your driver may stop at an officially looking building, showing a big sign saying "Consulate-General of the Kingdom of Cambodia". He will try to convince you that you have to apply for a Cambodian visa in this building. Do not believe him! It's a scam. He receives a commission for bringing you there and you will be charged about 50% more than the amount of the official visa fee.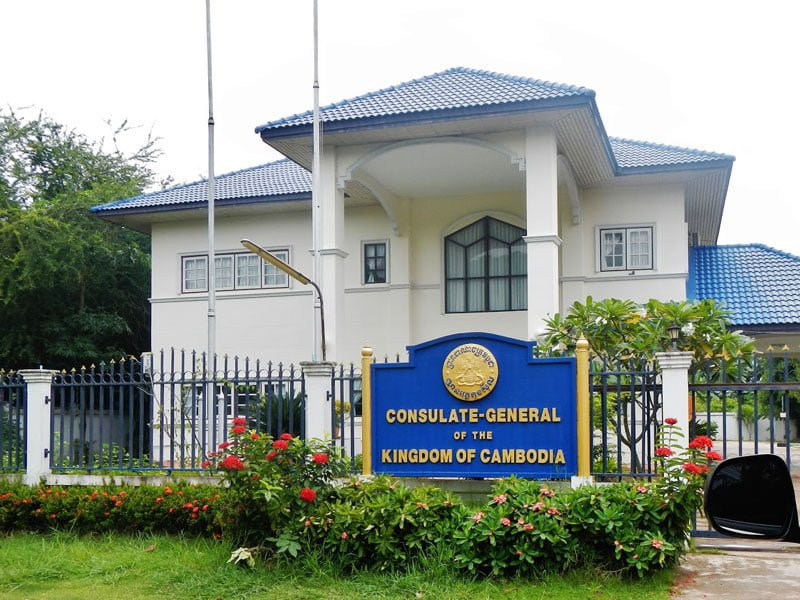 So, if you're in a tuk tuk make it clear to the tuk tuk driver that you want to go straight to the border and that you already have a Cambodian visa (even if this is not the case). Once there, you'll first have to cross Thai immigration and afterwards you can arrange the visa yourself at the real Cambodian visa office. It takes 5 minutes of your time and is a very easy process! If you're in a bus or minivan that stops here, be aware of the situation. If you do fall into the trap the fee is around 1600 Baht or US$45, while the official price is only US$30.
Crossing the Thai – Cambodian border
The opening hours for the border are 7am – 8pm. (There is no time difference between Thailand and Cambodia.) It's recommended to arrive at the border as early as possible, to avoid the lunch peak period between 11am and 2/3pm. If you arrive after closing time, you'll be forced to spend the night in Aranyaprathet, which is definitely not the most interesting town in Thailand!
To cross the border, follow these 3 easy steps:
Thai immigration: Cross the passport control at the Thai immigration office. The office is located on the left hand side of the road. Look out for a blue sign saying "Passport control" and "Departure".
Cambodia visa office: Apply for a Cambodian visa in the official visa office. The building is located on the right side of the traditional style arch that welcomes you to the country. Above the entrance you'll see a sign saying "Border Check Point of Poipet".
Cambodia immigration arrivals: Cross the passport control at the Cambodian immigration office. This building is also located on the right side of the road. There's a blue sign above the entrance saying "Arrival".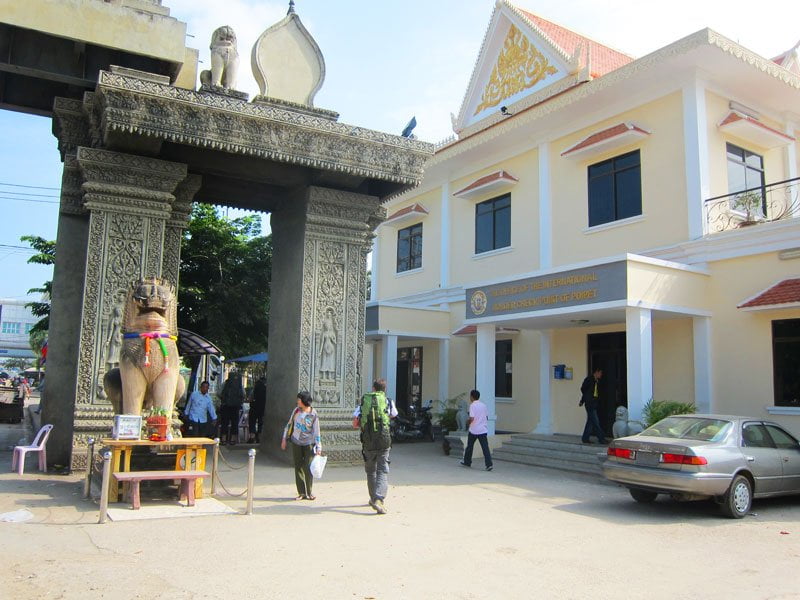 Poipet to Siem Reap & Arrival
Straight after leaving the Cambodian immigration office, several touts (in official looking uniforms) will approach you to use a free shuttle bus (or minivan) to the Poipet tourist bus terminal. Unless you already booked onwards transport to Siem Reap, ignore them because this free shuttle bus is part of a transport monopoly scam. The Poipet Tourist Passenger International Terminal, where the free shuttle will bring you, is located several kilometres out of town. Once you arrive there, you will have no other option than to use their overpriced transport options.
Walk straight past them. Cross the roundabout and keep on walking into Poipet's main street. Here, you should be able to pick up a ride to Siem Reap in a private or shared taxi at acceptable prices. A private taxi costs around US$35, while a seat in a shared taxi will set you back around US$8.
The Poipet Tourist Passenger International Terminal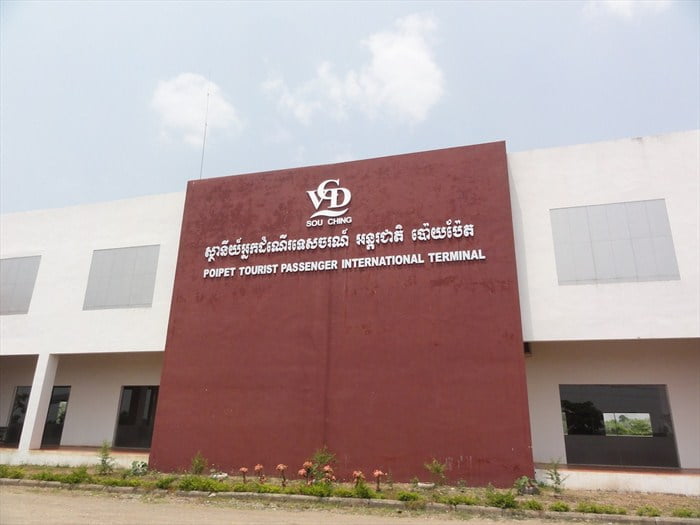 Unfortunately, despite its official sounding name, the Poipet Tourist Passenger International Terminal is a rip-off. An "official" private taxi to Siem Reap costs US$48. A seat in a shared taxi costs US$12. There's also a bus available for US$9 a person, but be aware that this bus will drop you off a few kilometres outside of the centre of Siem Reap. Several tuk tuks will be waiting here to bring you to your guesthouse at an additional cost ($4-5 depending on its location).
Arriving in Siem Reap
The trip from the Poipet border to Siem Reap should take 2.5 to 3 hours depending on traffic and weather conditions. The bus will probably drop you at Siem Reap's bus terminal, which is located several kilometres out of town along National Road 6. In this case, you'll need to negotiate a price with one of the tuk tuk drivers that will approach you. Make sure though that he will bring you to the guesthouse that you request and not to a different place (where he will receive a commission upon your booking).
In case you are arriving in Siem Reap by taxi, make sure that you don't pay the driver until he drops you off at exact location that you request. Do no believe that taxis are prohibited from entering Siem Reap. Also, do not let him drop you off at the taxi park, a different guesthouse or hand you over to a waiting tuk tuk (from which he will receive a commission).