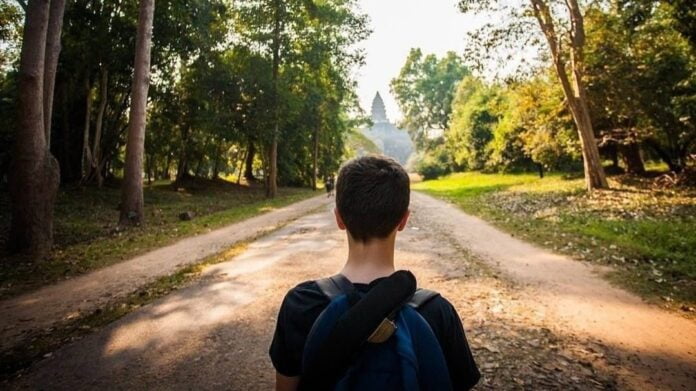 Bringing the children along on your visit to Siem Reap can be brilliant fun, whatever their age. Here are some tips or making your family's stay a fun, exciting and comfortable one.
Angkor Wat with Kids
A visit to the Angkor temples, which are the main draw, after all, can be done very easily with children with a little planning. Purchasing a three day ticket allows you to spend two or three mornings exploring the temple complex, either by tuk tuk (more fun) or by hiring a car or van with a driver (less fun but possibly cooler). This way, you'll have the afternoons free to rest, enjoy a leisurely lunch or cool down in the hotel's pool. Take plenty of cold water with you, and the tuk tuk ride between temples are ideal for cooling down and resting weary legs.
Bike rides
The city is perfect for bike rides. Within a few minutes you can be admiring rice paddies and grazing water buffalo in the countryside. Many hotels offer free use of bicycles. However, if yours doesn't, it's easy to hire one for the day, or longer, for just a dollar or two. Try The White Bicycles for $2 per day (proceeds support clean water and educational projects around the area). Don't forget a helmet and some drinking water.
Cinema
Siem Reap is lucky enough to have a newly-refurbished modern cinema with 2D and 3D screens showing all the latest Western and Khmer releases, so anyone missing some blockbuster movie action during their stay can easily catch up.
Also don't miss: our top 10 activities for children in Siem Reap!
Eating out
Children and babies are welcomed in almost all cafes and restaurants in Siem Reap, but here are a few favourites for children. Some have play areas, others have an appealing menu or particularly child-friendly staff or surroundings:
King's Road Food & Shopping Village – This pedestrianised village-feel complex along the river, with its imposing water wheel landmark, comprises of several eateries and the Made in Cambodia craft market to wander through, after your meal. Restaurants include family-friendly Blue Pumpkin, which has a small but fun play area for the toddlers and delicious ice creams (check out the salted caramel flavour), and also Brothers which has a great range of pizzas as well as a menu filled with Khmer and Western classics including pasta and burgers. It has a relaxed, open and airy feel with cool fans and quick service. The market complex hosts free, small outdoor performances in the evenings at 6-7pm during high season, including local musicians and traditional dancing (for more info, check our events section.)
Rosy Guesthouse has a great menu including some British favourites and its
legendary all day breakfast. Kids will enjoy the play room and parents can chat with tourists and expats alike.
Viva Mexican & Khmer Restaurant has two locations in the Pub Street area and is popular
with families who enjoy their tasty pizzas and the all-important sombreros to try on. Try the generous portion of giant onion rings!
Siem Reap Brew Pub has obvious appeal for craft ale-loving parents, but the kids can get competitive with the table football and darts board as well as an appealing menu.
Gelato and Coffee Lab makes an ideal pit stop after a busy day. Taste traditional Italian gelato that's made fresh, daily, or an all-natural sorbet.
The practicalities
Parents will be relieved to know that you can lay your hands on most of the essentials that you'll need when you're on holiday with the children.
Pharmacies – for plasters, pain relief, upset tummy advice and relief for mosquito bites, there is U-Care pharmacy with three very central locations or Angkor Thom Pharmacy on Sivatha Blvd. Find a more complete list of Siem Reap pharmacies in our business directory.
Books & toys – Monument Books next to Old Market, for toys such as Lego, board games, Hot Wheels cars and an array of children's books in English. Also try Asia Market and Lucky Mall (upstairs) for toys including pool inflatables. Lucky Mall and Angkor Market supermarkets for nappies, baby food, toiletries, snacks and drinks.
Bring with you swim nappies, baby or paediatric paracetamol (eg Calpol), sun screen (you can buy it in Siem Reap pharmacies and supermarkets but you'll find it's very expensive).
Have you spent time in Siem Reap with your young children? What did your children enjoy the most? Why not let us know? We'd love to hear from you!