Overland travel from Bangkok to Siem Reap is pretty straightforward. Read the following and you will feel confident to do the 465km long journey without running into any problems or scams. The whole trip takes between 7 and 12 hours, depending on your chosen mode of transport, traffic conditions and immigration queues at the Poipet border crossing.
Crossing the Thai / Cambodian Border
Poipet, Cambodia's border town with Thailand, is only known for two reasons: its casinos and its notorious border crossing. In this section you'll find the information you need to make a successful border crossing.
Cambodian Visa Scam
Somewhere close to the border, your driver may stop at an officially looking building, showing a big sign saying "Consulate-General of the Kingdom of Cambodia". He will try to convince you that you have to apply for a Cambodian visa in this building. Do not believe him! It's a scam. He receives a commission for bringing you there and you will be charged about 50% more than the amount of the official visa fee.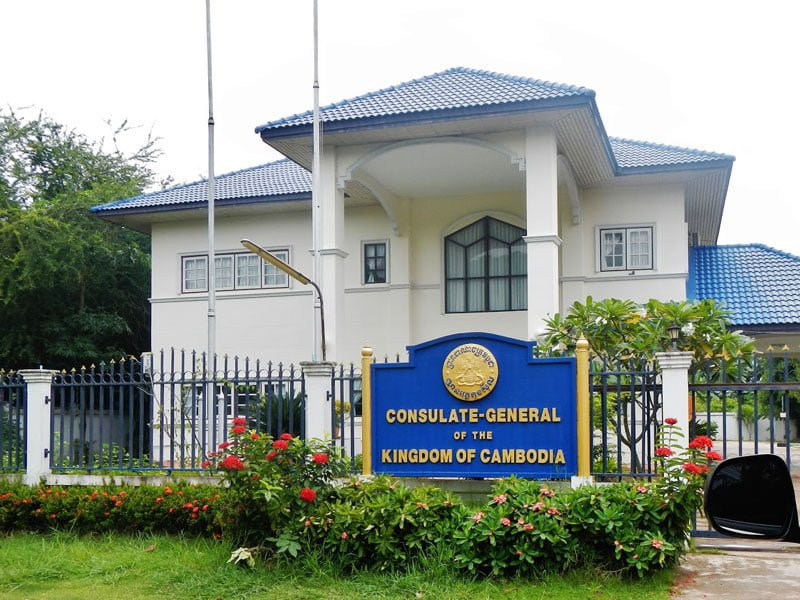 So, if you're in a tuk tuk make it clear to the tuk tuk driver that you want to go straight to the border and that you already have a Cambodian visa (even if this is not the case). Once there, you'll first have to cross Thai immigration and afterwards you can arrange the visa yourself at the real Cambodian visa office. It takes 5 minutes of your time and is a very easy process! If you're in a bus or minivan that stops here, be aware of the situation. If you do fall into the trap the fee is around 1600 Baht or US$45, while the official price is only US$30.
Crossing the Thai – Cambodian border
The opening hours for the border are 7am – 8pm. (There is no time difference between Thailand and Cambodia.) It's recommended to arrive at the border as early as possible, to avoid the lunch peak period between 11am and 2/3pm. If you arrive after closing time, you'll be forced to spend the night in Aranyaprathet, which is definitely not the most interesting town in Thailand!
To cross the border, follow these 3 easy steps:
Thai immigration: Cross the passport control at the Thai immigration office. The office is located on the left hand side of the road. Look out for a blue sign saying "Passport control" and "Departure".
Cambodia visa office: Apply for a Cambodian visa in the official visa office. The building is located on the right side of the traditional style arch that welcomes you to the country. Above the entrance you'll see a sign saying "Border Check Point of Poipet".
Cambodia immigration arrivals: Cross the passport control at the Cambodian immigration office. This building is also located on the right side of the road. There's a blue sign above the entrance saying "Arrival".