Siem Reap – Angkor International Airport, bearing the IATA code 'SAI,' celebrated its grand opening on October 16, 2023, marking a significant milestone in the realm of Cambodian aviation. This monumental event established it as Cambodia's largest airport with a remarkable capacity to accommodate an annual influx of 58,000 flights and 7 million passengers.
This comprehensive guide serves as your trusted resource, ensuring a seamless travel experience through Siem Reap – Angkor International Airport and onwards to your accommodations.
Location
Located approximately 45 kilometers east of downtown Siem Reap, the airport is strategically positioned to serve as the primary gateway for travelers embarking on a journey to the renowned Angkor Wat complex.
The location of the new airport, in comparison to the old airport which was just 5 km from town, was chosen due to several reasons, including:
Allowing long-haul direct flights with larger airplanes to accommodate international travelers, particularly tourists from America and Europe;
Facilitating more domestic and international flights to meet the expected growth in tourism numbers;
Minimizing the impact of vibrations and air pollution on the Angkor Archaeological Park and Siem Reap town;
Providing space for the ever-expanding city of Siem Reap, which is poised to introduce various new tourism attractions and a whole new city named Grand Siem Reap. This new city, located just 8 km from the new airport, will feature residential, commercial, and tourism zones, further enhancing the area's development;
For a visual representation of the airport's location in proximity to Siem Reap town and the Angkor Wat temple complex, consult the Google map below.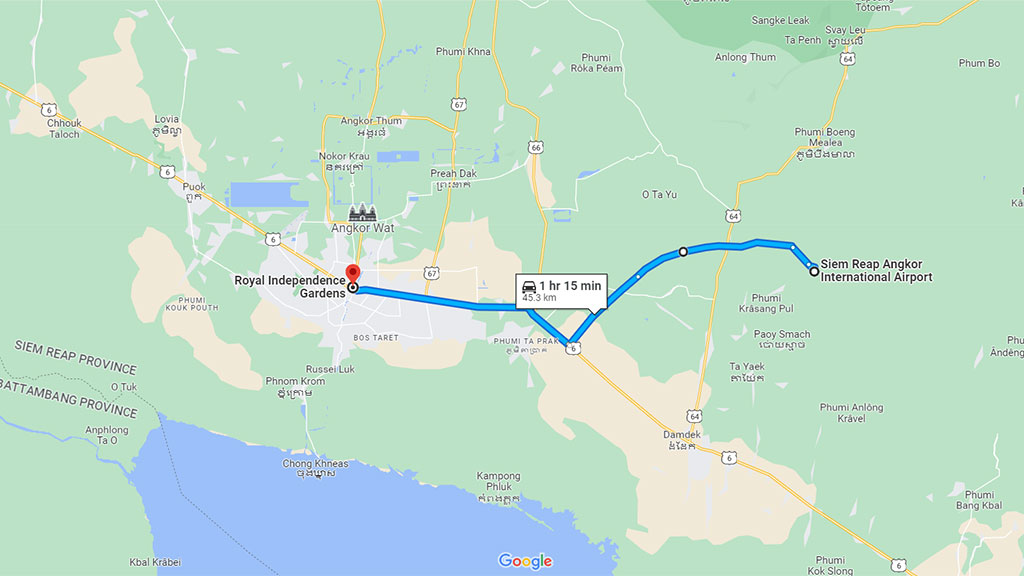 Getting to and from the New Siem Reap Airport
Accessing the airport is facilitated by the newly constructed "Angkor Highway", reducing travel time considerably. This 24.5-kilometer highway, commencing near national road 6 at the 294 km marker, has alleviated some traffic congestion. Nevertheless, despite this new route, the total distance between Siem Reap town and the airport remains at approximately 45 km with an estimated travel time of 1 hour and 15 minutes. Anticipate further reductions in travel times in the coming years, thanks to improved road connections and a light-rail line project currently under a feasibility study by the Cambodian government.
Official Transportation Options & Prices
Travelers have 3 official transport options available to get to and from Siem Reap Airport:
Private car (up to 7 persons): $35 per vehicle;
Mini-van (8 to 15 persons): $40 per vehicle;
Shuttle bus service: $8 a person for a single trip or $15 for a return ticket;
Airport Shuttle Bus Service: Schedule, Drop-off Points, Pick-up Points
From Siem Reap airport, shuttle buses depart to town at 9:30 am, 12:30 pm, 3:00 pm, and 8:00 pm, with drop-off points at Makro (along Road 6, 6 km from town), CDF (in town, Wat Bo area) and Angkor market (in town, along Road 6).
For travelers heading from Siem Reap town to the airport, the shuttle service exclusively departs from CDF at 8:00 am, 11:00 am, 1:30 pm, and 4:30 pm.
New: Airport Shuttle Express by Cambodia Post
Thanks to this recently added shuttle bus service by Cambodia Post, travelers have a much more flexible transport option to get to and from Siem Reap Airport. At $8 a person, the cost is equally affordable as the official shuttle bus.
From Siem Reap airport, shuttle buses depart to town at 10:30am, 11:30am, 12:30pm, 15:00pm, 16:30pm, 18:00pm, 20:00pm. The drop-off point is at the Siem Reap Post Office along the riverside in the center of town.
For travelers heading towards the airport, shuttle buses depart from the Siem Reap Post Office at 7:00am, 9:00am, 11:00am, 12:30pm, 14:00pm, 15:30pm, 17:00pm.
Other Transportation Options
In addition to the official transport options provided by the airport, travelers currently have a range of alternative choices:
Private taxi services, priced at approximately 25 USD per car;
Private shuttle services, available at around 12 USD per person, which is slightly more expensive than the official service, but available 24/7 with direct drop-off at your hotel;
Taxi-booking platforms like Grab or the local variant PassApp. Consider booking a private car, as tuk tuks or rickshaws may not be the most comfortable option for covering the distance between the airport and town;
It's important to note that the availability and regulation of these alternative services may change in the future. For the latest updates, please don't hesitate to get in touch with us via our contact form, Facebook, or Instagram.
Airlines and Destinations
The following 10 airline companies operate at the airport:
AirAsia: International flights to / from Kuala Lumpur, Malaysia;
AirAsia Thailand: International flights to / from Bangkok – Don Mueang Airport, Thailand;
Bangkok Airways: International flights to / from Bangkok – Suvarnabhumi Airport, Thailand;
Cambodia Angkor Air:

International flights to / from Da Nang, Hanoi and Ho Chi Minh City in Vietnam;
Domestic flights to / from Phnom Penh and Sihanoukville;

China Eastern Airlines: International flights to / from Kunming and Shanghai – Pudong Airport in China;
Lao Airlines: International flights to / from Pakse, Laos;
Singapore Airlines: International flights to / from Singapore;
Sky Angkor Airlines: International flights to / from Seoul – Incheon Airport, South Korea;
Thai Smile: International flights to / from Bangkok – Suvarnabhumi Airport, Thailand;
Vietnam Airlines:

International flights to / from Hanoi and Ho Chi Minh City in Vietnam;
International flights to Luang Prabang in Laos;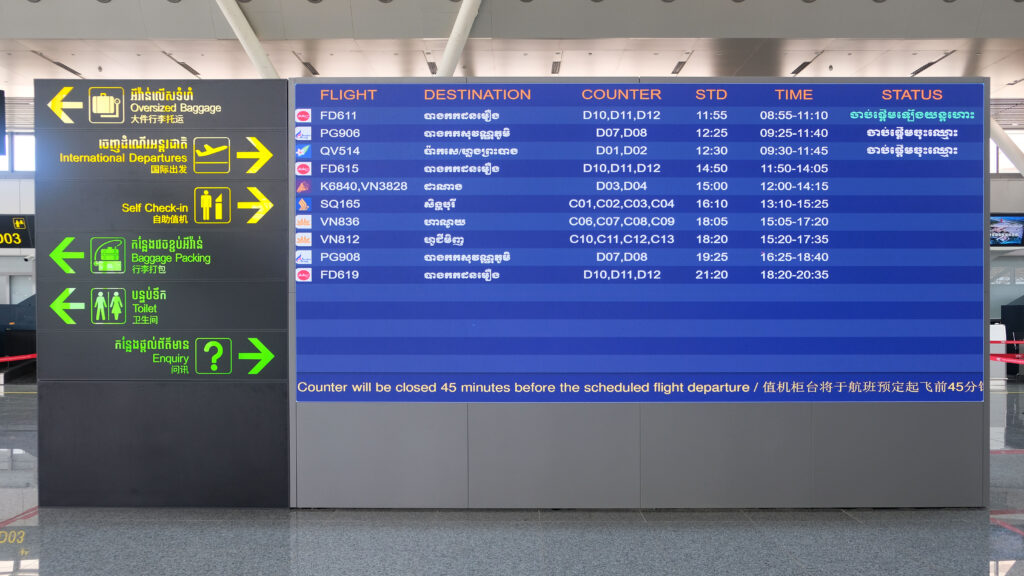 While currently serving a limited number of destinations, there are strong indications of upcoming developments. Rumors have circulated about potential direct flights to and from India, promising to facilitate seamless travel for passengers from the Indian subcontinent. Additionally, an agreement with Qatar Airways is reportedly in the works, which could open up new routes connecting Siem Reap to an even wider global audience.
Airport Departures – What to Expect
While the domestic departure zone is on the ground floor, international travelers should ensure they are dropped off at the first floor.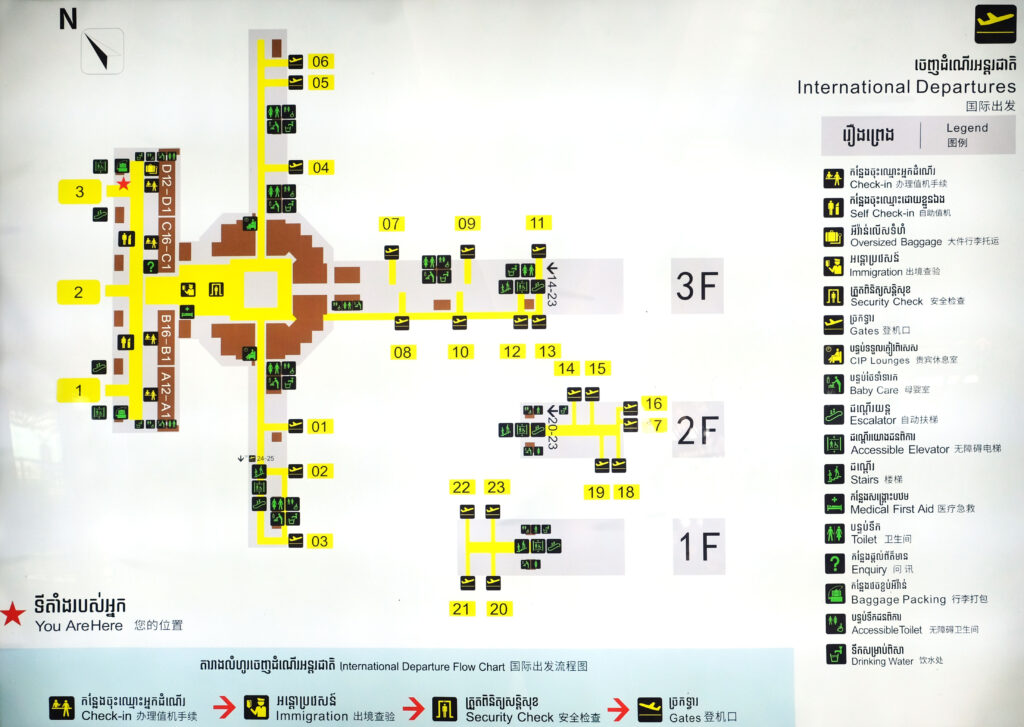 Upon entering the international departures terminal, travelers will encounter a modern and spacious environment designed to meet their various needs. This includes convenient amenities such as a currency exchange booth, a coffee shop, luggage wrapping services, charging stations, and water refill stations. Complimentary Wi-Fi is available as well throughout the airport!
Airport Arrivals – What to Expect
Upon your arrival at Siem Reap Airport, if you don't already have a Cambodian visa, you'll need to apply for a visa-on-arrival before proceeding through immigration. ATMs and an exchange booth are available should you require US dollars for the visa fee.
Cambodia uses two currencies: Cambodian Riel (KHR) and US Dollar (USD). However, the visa-on-arrival can only be paid in US Dollar. Don't miss our article about safely exchanging money in Siem Reap!
After clearing immigration, a brief walk will lead you to the baggage claim area and the airport exit. Once outside, you can easily arrange transportation to Siem Reap town using the previously mentioned options. Additionally, travelers will find several booths offering local SIM cards with prepaid mobile data plans to stay connected during their visit. During our latest visit, Cambodia's 3 main mobile carriers were available: Metfone, Cellcard, and Smart Mobile.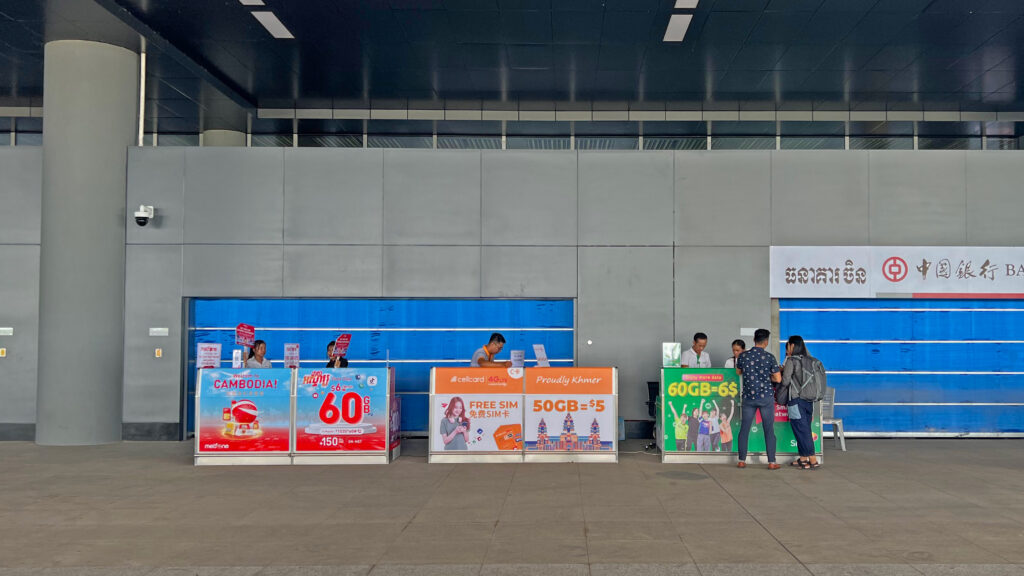 Technical Details
Siem Reap Angkor International Airport covers an area of approximately 700 hectares and holds a 4E category, featuring a runway capable of accommodating larger long-haul aircraft. With 56 gates for passengers, it represents Cambodia's commitment to modernizing its air travel infrastructure.
Conclusion
In conclusion, the recent opening of Siem Reap – Angkor International Airport ushers in a new era of travel possibilities. However, as this airport is still in its early days, we anticipate numerous changes on the horizon. These changes may include a broader range of direct flights, the introduction of new airline carriers, potentially more flexible transport options into town, the addition of new shops and restaurants, and an overall enhanced passenger experience.
We're dedicated to keeping this article current and accurate, and we welcome your input. If you have feedback or come across new information regarding the airport, please don't hesitate to contact us. We are available through our contact form or the comment section below.