Don't leave Cambodia without experiencing a traditional Khmer massage. Our selection of the best spas in Siem Reap will guarantee an evening of unmatched respite, delivering tranquility and relaxation after the sun sets on your temple explorations. But first, let's explore what a Khmer massage is and how it's different from a Thai massage.
What is a Traditional Khmer Massage?
A traditional Khmer massage often combines gentle stretching, pressure point stimulation, and rhythmic movements. Therapists may use their hands, elbows, forearms, and occasionally feet to perform the massage, focusing on energy pathways and specific muscle groups. The massage aims to restore balance and energy flow within the body, offering both physical and mental relaxation. Traditionally, natural oils or balms might also be used to enhance the therapeutic effects of the massage.
The Benefits of a Khmer Massage
Bye-bye Stress & Jetlags: Traveling to a foreign country can be overwhelming, but a traditional Khmer massage is like a magic stress-eraser. It'll melt away your worries and leave you feeling calm and refreshed, ready to start exploring Siem Reap's ancient wonders.
Boost Your Energy: Good circulation is key to feeling energetic and alive. A Khmer massage will kickstart your circulation, giving you that extra oomph to tackle the day head-on.
Aches & Pains Be Gone: After a day of exploring temples or other thrilling adventures in Cambodia's hot and humid climate, your muscles deserve a good massage. Skilled hands will work out all the tension, leaving you feeling flexible and blissfully relaxed.
Affordable Bliss: Here's the best part – Getting a massage in Cambodia won't break the bank! You'll enjoy double the pampering time and luxury for half the price compared to your hometown. It's guilt-free indulgence for both you and your wallet.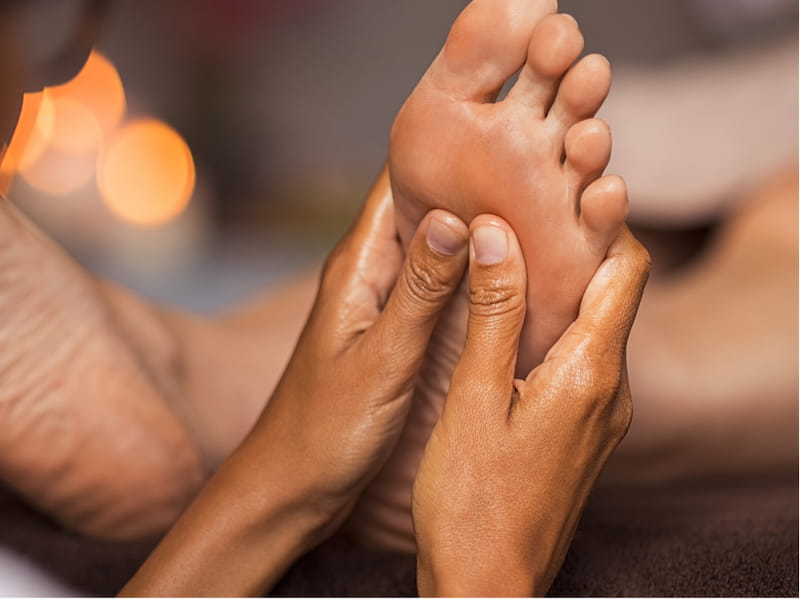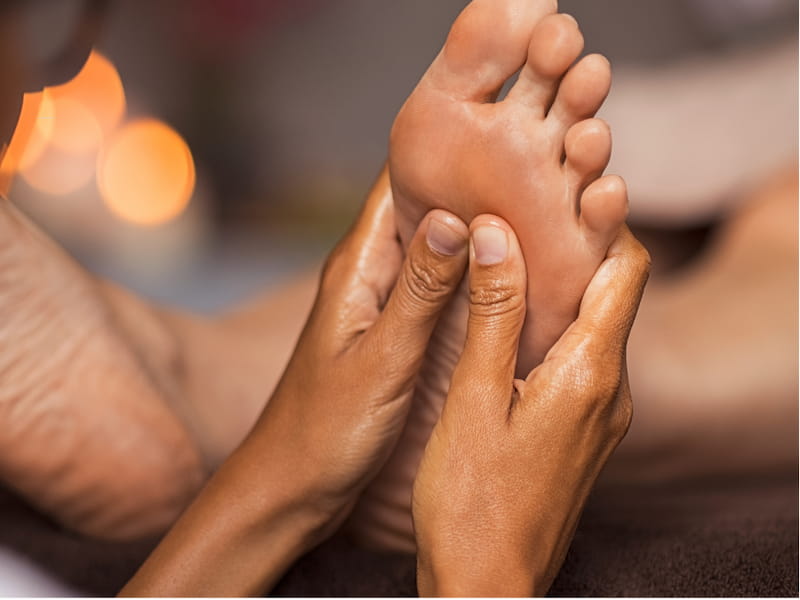 Khmer Massage vs Thai Massage
Traditional Khmer massage and Thai massage share similarities in their focus on relaxation and therapeutic benefits. However, they differ in techniques and approaches. As mentioned above, Khmer massage incorporates gentle stretching, pressure points, and rhythmic movements, often targeting specific muscle groups. Thai massage involves stretching, compressions, and passive yoga-like positions. Both aim to improve well-being, but Khmer massage emphasizes targeted pressure and stretching, while Thai massage focuses on guided stretches and movements to release tension and enhance flexibility.
Choosing The Right Spa
If budget permits, we strongly advise steering clear of the numerous low-cost massage venues lining Pub Street and Old Market area. They are easily identifiable by masseuses stationed outside, brandishing menus and calling out to passersby with offers of $5 or $6 massages. These establishments might seem tempting at first glance. However, beyond the allure, it's important to realize that these spots not only lack expertise, hygiene standards, and use low-quality massage oils that might cause skin irritation but also tend to underpay their staff. Unless you're seeking a swift 30-minute foot massage before venturing into Pub Street, disappointment is likely.
Our Recommended Spas in Siem Reap
Instead, continue reading for our tried-and-tested selection of the best spas in Siem Reap. These venues excel in traditional Khmer massages and a diverse range of other treatments, catering to various price points.
Ready for a peaceful body-and-mind relaxation experience? Kaya Spa offers the best value right in the city center! They provide high-quality traditional massages and special treatments such as aromatherapy, candle, herbal compress, and stone massages, along with body scrubs, facial masks, and hand and foot care. The experienced therapists use all-natural spa cosmetics by Senteurs d'Angkor, which contain carefully selected ingredients. You can personalize your massage oil with five aromatic synergies: Oriental, Sensual, Refreshing, Relaxing, and Re-balance.
Kaya Spa
Old Market 2 Next to Senteurs d'Angkor –
Google Maps
Everyday from 12 – 10.30 pm
+855 61 806 119
$$ Mid-range massage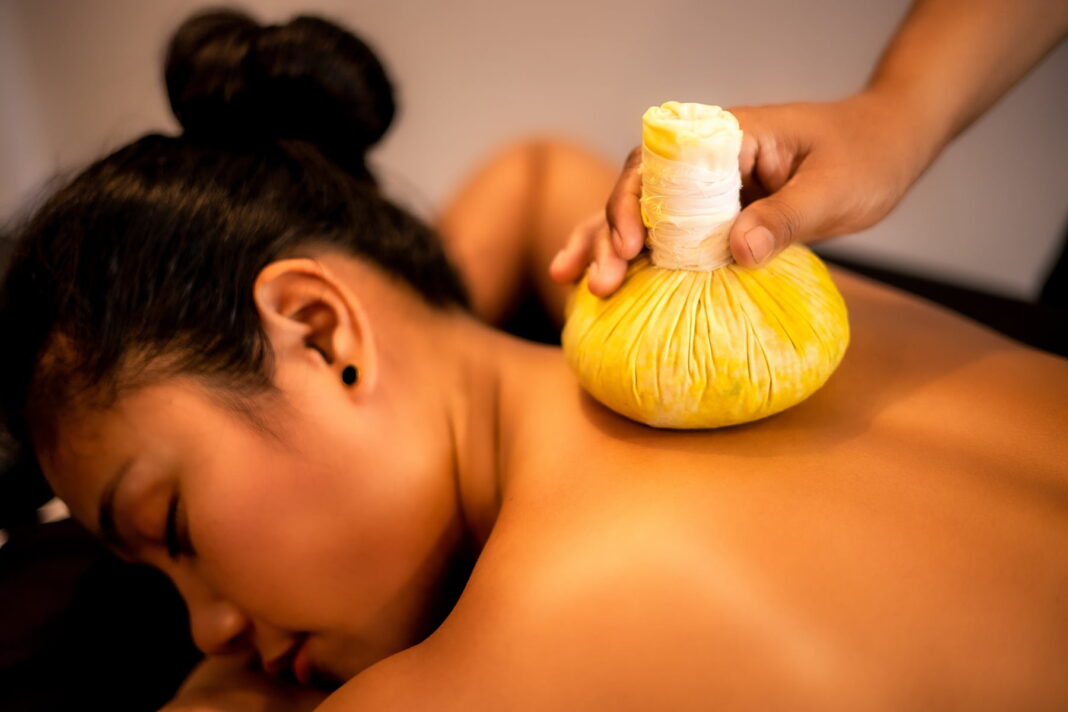 Ketanak Spa is a unique 'home spa house' located just 10 minutes from the city center. Nestled in a delightful garden, this concept offers the perfect escape to unwind and chill. Designed with guest comfort and tranquility in mind, the spa boasts seven rooms, ensuring a serene and intimate atmosphere throughout your journey. Devoted to natural well-being, Ketanak Spa specializes in massages, treatments, scrubs, facials, hammam sessions, and head massages. With a team of skilled therapists, each dedicated to delivering exceptional expertise, every guest is treated to heartfelt experiences that leave them feeling pampered and rejuvenated. Embrace the serenity and peace this spa offers, as it becomes your oasis of relaxation.
Ketanak Spa
Angkor Tree St –
Google Maps
Everyday from 10 am – 10 pm
+855 17 707 094
$$ Mid-range massage
Also Don't Mis: The Thrill of a Fish Massage
Did you know that visitors of Pub Street can experience a fish massage, a unique local attraction? This unconventional spa treatment involves immersing your feet in street-side tanks filled with Garra rufa fish, known as "doctor fish," which nibble away dead skin cells, providing a gentle exfoliation. This stimulating yet relaxing activity offers a unique way to unwind amidst the bustling energy of Siem Reap, leaving feet feeling refreshed and revitalized.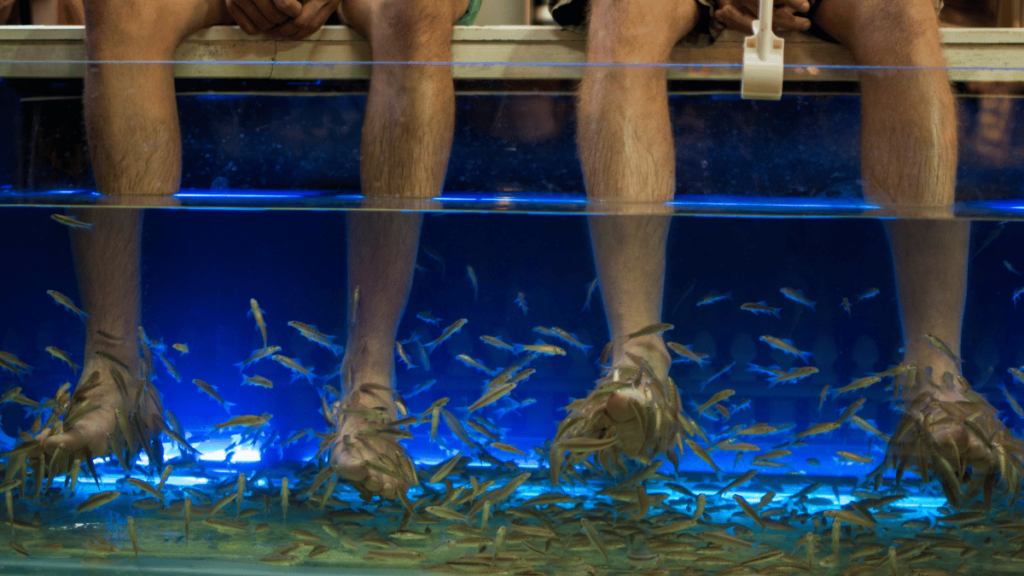 Did we miss your favorite spa in town? Let us know in the comments or send us a message through the contact form!